Find here Propose Day Funny Jokes in Hindi with Images. Not only this, also get here Propose Day Funny Images in Hindi for WhatsApp, Facebook and Instagram. Today is very important day for lover. But it is also important to laugh today. So that's why we brought here Propose Day Jokes in Hindi. Which you can make your Propose Day very happy by sharing it to your friends.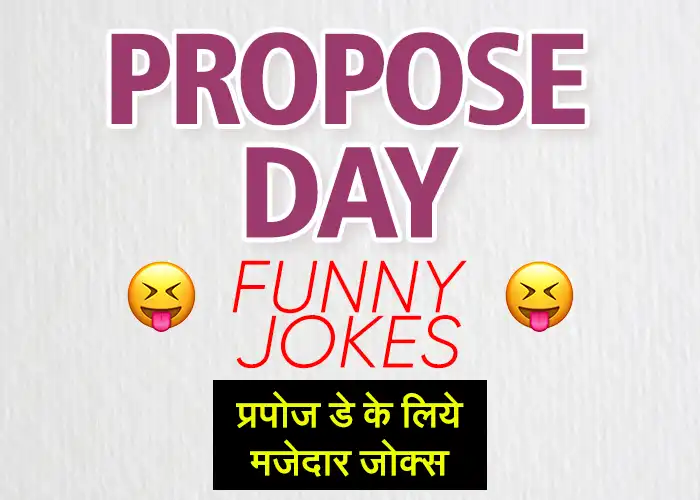 आज प्रपोज डे के उपलक्ष में हमने यहां आपसे Funny Propose Day Jokes 2023 के लिये आपके लिये शेयर किये है । यह प्रपोज डे के Funny Propose Day SMS आपको काफी पसंद आने वाले है । एवं प्रत्येक जोक्स को हमने यहां Image के साथ बनाया है । जिससे आपको अपने मित्रों को शेयर करने में काफी आसानी होगी । एवं आज यह जोक्स उनका दिन बनाने में मददरुप साबित होंगे । हमे आशा है कि आपको यह काफी पसंद आयेंगे ।
Propose Day Funny Jokes in Hindi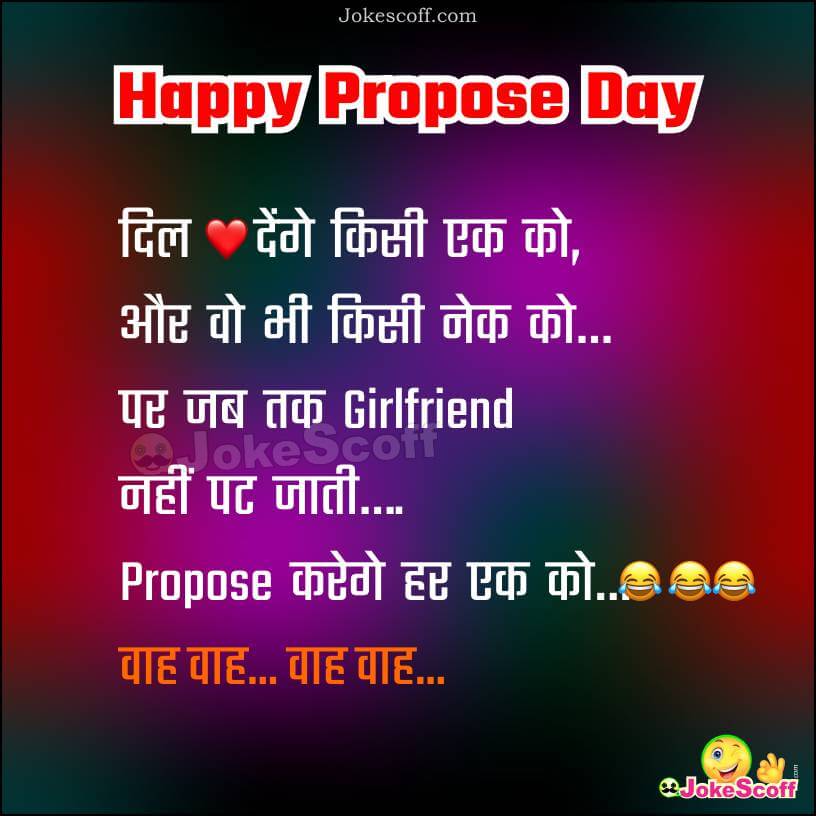 दिल देंगे किसी एक को,
और वो भी किसी नेक को…
पर जब तक Girlfriend
नहीं पट जाती….
Propose करेंगे हर एक को…
Eng text:
Dil Denge kisi ek ko
Aur wo bhi kisi nek ko,
Par Jab tak Girlfriend nahi pat jati
Propose karenge Har ek ko
Hilarious Jokes for Propose day in Hindi Language.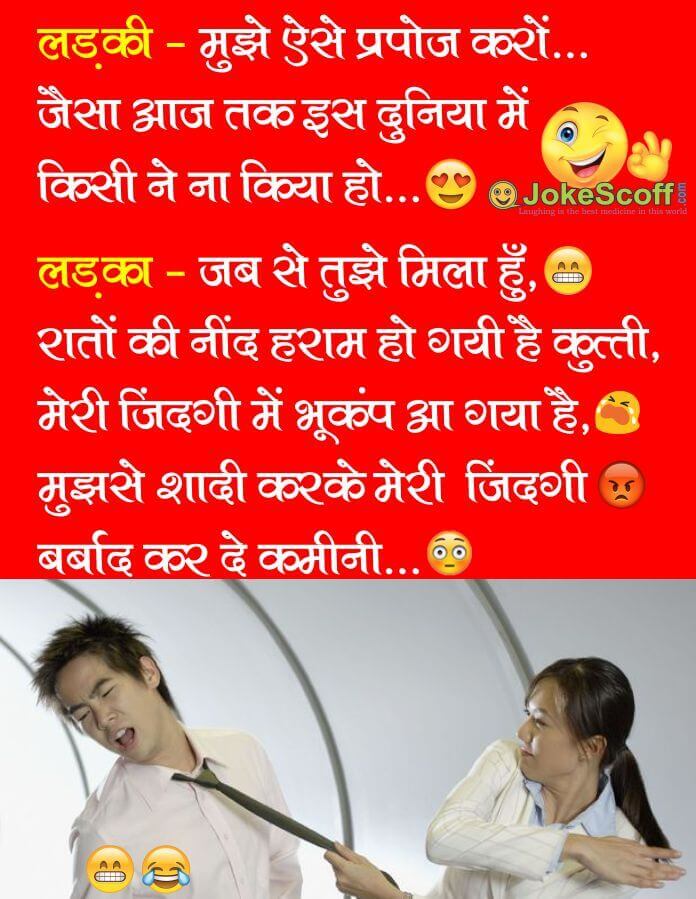 लड़की – मुझेॆ ऐसे प्रपोज करों…😍 जैसा आज तक इस दुनिया में किसी ने ना किया हो !!!💁‍♀️
लड़का – जब से तुझे मिला हुँ,😕
रातो की नींद हराम हो गयी है कुत्ती,😠
मेरी जिंदगी में भूकंप आ गया है,😱
मुझसे शादी करके मेरी जिंदगी बर्बाद कर दे कमीनी…😳😨😡🙄😲
🤣🤣😂😂
Eng Text :
Ladki : Muje aise propose karo jaisa aaj tak is duniya mein kisi ne na kiya ho…
Ladka : Jabse tuje mila hu, Rato ki Nind haram ho gyi hai Kutti…
Meri Zindgi mein bhukamp aa gya hai,
Mujse Shadi karke meri zindgi barbaad kar de kamini…
Propose Day Facebook Funniest Jokes
पागल है वो लोग जो 8 फरवरी को Propose करते है,😉
.
समझदार तो वो लोग है,☺️
जो 1 अप्रेल को करें..😳.
मान गयी तो 😲 Cool…
नहीं तो दीदी….🤗
April Fool….🤣😂😅
Pagal hai wo log jo 8 February ko Propose karte hai,
.
Samajhdar to wo log hai,
Jo 1 April ko karein,
Man gayi to Cool
Nahi to Didi April Fool
बंता – ओये, जब तुझे पता था की
वो लड़की, पहले से ही शादीसुदा है….
तो तुने उसे Propose क्युं किया ???
संता – "यार… खाली खुर्शी पर तो
कोई भी बैठ सकता है,
पर खुर्शी खाली करके बैठने की
बात ही कुछ ओर होती है…"
Banta: Oye, Jab Tuje pata tha ki
Wo ladki, Pahele se hi shadisuda hai
To tune use Propose kyu kiya?
Santa: Yar, Khali khursi par to koi bhi baith sakta hai,
Par Khursi khale karke baithne ki
Bat hi kuch or hoti hai.
Propose Day Funniest Images 2023
लड़की (अपने प्रेमी को) : मेरा सोनू, मेरा मोनू
माय बेबी,
मेरा बाबू,
माय स्वीटू,
मेरा गोलू,
क्या तुम मुझसे शादी करोगे ? बोल मेरा बच्चा
लड़का :- अरे तू Propose कर रही है,
या गोद ले रही है
Ladki (Apne Premi ko) Mera Sonu, Mera Monu
May Baby, Mera Babu, My Switu, Mera Golu,
Kya tum Mujhse Shadi karoge? Bol mera Bachcha
Ladka : Arey tu Propose kar rahi hai,
Ya God le rhi hai.
Propose Day Jokes: Jokes Pasand aaye to Like aur share jaroor karein. Khud bhi hasein aur logo ko bhi hasaiye. Swasth raho mast raho… Sada hastey raho… Thanks.