Collection of very Funny Diwali wishes Jokes sms in hindi. Happy Diwali in Advance Jokes also available here. Diwali wishes jokes with picture, Diwali Jokes Funny Status for WhatsApp.
We have added new jokes in this year (2022). Diwali is the great Indian festival, people search on net for Happy Diwali Jokes, Happy Diwali Funny SMS, So we have created for you best Funniest Full Diwali Week SMS for you. Here you can also find New Year Jokes.
Today, Facebook and WhatsApp generation, So It is necessary to share Happy Diwali Wishes. We have Also created Happy Diwali and New Year Greetings, you can also checkout this. Wish you a Safe Diwali… Happy Diwali…
Diwali Jokes in Hindi
#15
सूचना –
दिवाली पर एक ही तिल्ली से 4-5 दीपक ना जलाये
इससे पिताजी को शक होने लगता है कि,
छोरा सिगरेट पीने लगा है
जनहित में जारी😜
हेप्पी दिवाली
Suchna –
Diwali par hi tilli se 4-5 dipak na jalaye
Isse pitaji ko shak hone lagta hai ki,
Chhora cigarette pine laga hai
Janhit me jari
Happiest Diwali
#14
खबरदार कोई भी मुझे हेप्पी दिवाली नहीं बोलेगा
क्योंकि पिछली बार आपकी हार्दिक शुभकामनाओं से मेरा कोई भला नहीं हुआ था
इसलिये इस बार मुझे केस भेजकर देखिये😜😝
हेप्पी दिवाली
Khabardar koi bhi muje Happy Diwali nahi bolega
Kyon ki pichali bar aapki Hardik Shubhakamnao se mera koi bhala nahi hua tha
Isliye isbar mujhe cash bhejkar dekhiye
happy Diwali
Happy Diwali Funny Pics
#13
अगर आपकी गर्लफ्रेन्ड आपसे चाँद सितारों की डिमान्ड करती है,
तो आज ही एक रोकेट खरीद कर, उसे उस पर बिठाकर, रोकेट को आग लगा दो…😜😝
Wish you a Very Happy Diwali and Safe Diwali
Agar aapki girlfriend aapse chand sitaro ki demand karti hai,
to aaj hi 1 rocket kharid kar, Usey us par bithakar, rocket ko aag laga do…
#12
"बुरा ना मानो होली है"
यह कह कर किसीने मुझ पर रंग फेंक दिया था…
.
.
.
आज "बुरा ना मानो दिवाली है" यह कहकर
मैंने उस पर **बम** फेंक दिया…😂
.
.
आज पूरा मोहल्ला मुझे ढूंढ रहा है…😝
Happiest Diwali Friends
Bura na mano holi hai
Yeh kahekar kisi ne mujh par rang fek diya tha.
.
Aaj bura na mano diwali hai,
Yeh kahkar meine us par bomb fenk diya
Aaj pura mohalla muje dhund rha hai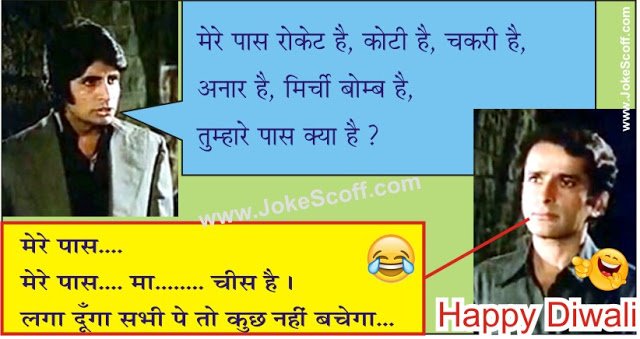 #11
अमिताभ बच्चन – "मेरे पास Rocket है,
कोटी है,
चकरी है,
अनार है,
मिर्ची बोम्ब है,
तुम्हारे पास क्या है ?"
.
शशी कपूर – "मेरे पास
.
.
मेरे पास… मा…
.
.
चीस है ।
लगा दूँगा सभी पे तो कुछ भी नहीं बचेगा…😅
# Happy Diwali #
AB : Mere pas rocket hai, Koti hai, Chakri hai, Anar hai, Mirchi bomb hai
Tumhare pas kya hai ?
.
SK: Mere pas Ma… Chis hai
Laga dunga sabhi pe to kuch bhi nahi bachega…
Funniest Diwali Jokes For WhatsApp
#10
आँखो से आँसूओं की जुदाई कर दो,
दिल से ग़मों की विदाई कर दो,
अगर दिल ना लगे कहीं तो,
आ जाओ मेरे घर
.
.
और
.
मेरे घर की सफाई कर दो…
और याद रहे
यह Offer दिवाली तक ही है…😛😂😂
Aankho se aansuon ki judai kar do,
Dil se gamo ko vidai kar do,
Agar dil na lage kahi to,
Aa jao mere ghar
Aur
Mere ghar ki Safai kar do…
Aur yaad rahe yeh offer diwali tak hi hai…
Advance Diwali Wishing Jokes
#9
आपकी दिवाली मंगलमय हो,
आपको दिवाली Advance में मुबारक हो,
.
में जानता हूँ कि में बहोत जल्दी Wish कर रहा हूँ,
कितुं क्या करू ?
मेरे पास Thousand of Beauties, Hots और Smarties है
जिन्हें मुझे Wish करना है,
इसलिए पहले में
Uncles और Aunties को Wish कर रहा हूँ…😜
Aapki Diwali mangalmay ho,
Aapko Diwali Advance me mubarak ho,
.
mein janta hu ki, Mein bahut jaldi wish kar rha hu,
Kintu kya karu?
mere pas thousand of beauties, Hots aur smarties hai
Jinhein muje wish karna hai,
Isliye pahle mein Uncles aur Aunties ko wish kar rha hu…
#8
अपुन wishing you a wonderful,
*super-duper*
*zabardast*
*xtra-badhiya*
*xtra special*
एकदम मस्त and Dhinchak,
बोले तो एकदम **Jhakaas**😆😃
# HAPPY DiWALi #
#7
में आशा करता हूँ कि,
इस दिवाली के पावन मौके पे,
दिपावली के अलौकिक प्रकाश से,
तुम्हारे दिमाग में कुछ उजाला हो…
और
तूम इंसानो जैसा बर्ताव शुरू कर दो…😜😛
$ HAPPY DIPAWALI IN ADVANCE $
Mein asha karta hu ki,
is Diwali ke pawan mauke pe,
Dipawali ke alokik prakash se,
Tumhare dimag mein kuch ujala ho aur
tum insaano jaisa bartav shuru kar do
#6
Rocket = 90 रू.
.
Bomb = 100 रू.
.
Anar = 80 रू.
.
फुलजरी = 50 रू.
.
चकरी = 100 रू.
कुल = 420 रू.
It's a completely wastage of money…
क्यु न यही 420 रू. से कुछ चारसो बीसी का काम करें.
एक तंदूरी चिकन लाओ,
और 1 विस्की लाओ टोटल हुआ खर्चा 400 रू.
खूब खाओ और पीओ…
बीवी होगी तो पटाखें खुद ही बजेंगे…
नहीं होगी तो घरवाले बजायेंगे…😜😂😂
Wish you a very Happy Diwali…
Rocket 90 Rs, Bomb 100 Rs, anar 80 Rs, Fuljari 50 Rs,
Chakri 100 Rs. Total 420 Rs.
It's a completely wastage of money…
Kyu n yehi 420 rs. se kuch charso bisi ka kam kare
1 tanduri chicken lao,
aur 1 Whisky lao Total hua kharcha 400 Rs.
Khub khao aur pio,
Bivi hogi to patakhe khud hi bajenge
Nahi hogi to gharwale bajayenge
#5
O O O O
O O O O O O
O O O O O O O O
O O O O O O O O O O
O O O O O O O O O O O O
.
.
.
अरे !
Diwali के लड्डू है,
Please एक खाकर आगे फोरवर्ड कर देना…
Happy Diwali in Advance…
देखी मेरी "यारी", सबसे पहले हमने "बाजी मारी"…😄
Pollution free Diwali Jokes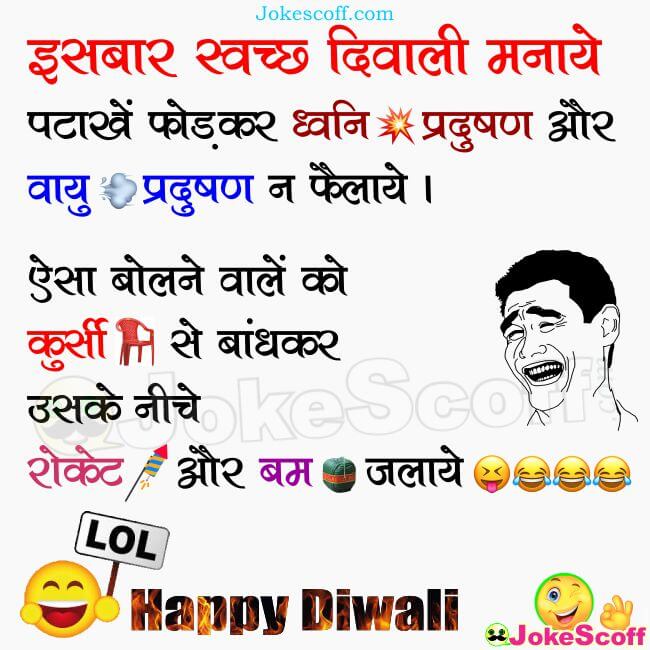 #4
इस बार स्वच्छ दिवाली मनाये
पटाखें फोड़कर ध्वनि प्रदुषण और वायु प्रदुषण न फैलाये
ऐसा बोलने वालें को कुर्सी से बांधकर
उसके नीचे रोकेट और बम जलाये😂
Wish you a very Happy Diwali
Is bar swachch diwali manaye
Patakhe fodkar dwani pradushan aur vayu pradushan na failaye
Aisa bolne wale ko kursi se bandhkar
Uske niche rocket aur bomb jalaye
#3
पटाखें कोर्ट ने बंध करवा दिये
दारू को सरकार ने,
और घी और मीठा डॉक्टर ने
अब तो एक ही रास्ता बचा है
आलू के परांठे खाओ 🤭 और दिवाली मनाओं😜🤣
Patakhe court ne bandh karva diye
Daru ko sarkar ne,
Aur ghi aur mitha doctor ne
Ab to ek hi rasta bacha hai
Aalu ke parathe khao aur Diwali manao
Eco Friendly Diwali Jokes
#2
जहाँ इंसान 45 करोड़ सिगरेट प्रतिदन जलाता है
वहाँ साला एक दिन की दिवाली से प्रदूषण फैलाता है
वाह वाह..
झूठे पर्यावरण प्रेमी शांत रहे
पहले खुद बाईक या कार छोड़कर साईकिल चलाये
पेड़ उगाये, फिर ज्ञान फैलाये
खूब पटाखें फो़ड़े, मच्छर भगाये 😀
हेप्पी दिवाली
Jaha insaan 45 crore cigarette pratidin jalata hai
Waha sala 1 din ki Diwali se pradushan failata hai
Wah wah…
Jhuthe paryavaran premi shant rahe
Pahele khud bike ya car chhodkr cycle chalaye
Ped ugaye, fir gyan failaye
Khub patakhe fode, Machchar bhagaye…
#1
पर्यावरण प्रेमी बने
इस दिवाली ध्वनिरहित दिवाली मनाये
पर्यावरण बचाये
अर्थात्
अपनी पत्नी को उसके मायके पहुँचाये😜😂🤣🤣
जनहित में जारी
Eng text: Nature lover bane
Is Diwali noiseless Diwali manaye
Nature bachaye
Matlab
Apni patni ko uske mayke pahuchaye
Jan hit mein jari
Diwali Jokes in Hindi : Finally, We sharing with you best Diwali Jokes for WhatsApp, Diwali Funniest SMS for Facebook. Tell us that, how much like this jokes, also share and like please. Thanks.