Funny Diwali Jokes in Hindi : This Diwali 2023 we have sharing with you our Best Funny stuff. Grab the belly and laughed by reading this Best Diwali Jokes in Hindi. Funny Diwali Images in Hindi Language for WhatsApp and Facebook.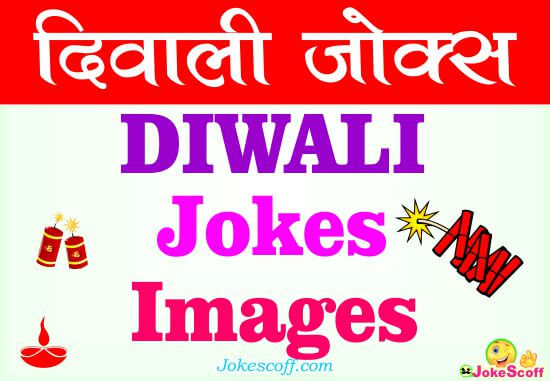 This is the best Diwali Jokes with images on this year 2023. All Diwali Jokes are in Hindi. Diwali is Festival of joy, so you should read and share this jokes with your friend and family and become their part of happiness. Please tell us by comment how like this jokes. Let's started…
Husband Wife Diwali Jokes
पति और पत्नी दोनों मिलकर दिवाली के लिये शोपिंग की लिस्ट बना रहे थे ।
लंबी लिस्ट बनाने के बाद
पत्नी ने पूछा –
चलो बताओ, अब हमें सबसे पहले क्या लेने जाना है ?
पति – लोन
Pati aur patni dono milkar diwali ke liye shopping ki list bana rhe the.
lambi list banane ke bad
patni ne pucha :
Chalo batao, Ab humein sabse pahle kya lene jana hai ?
Pati : Loan
Kids and Mom Funny Diwali Jokes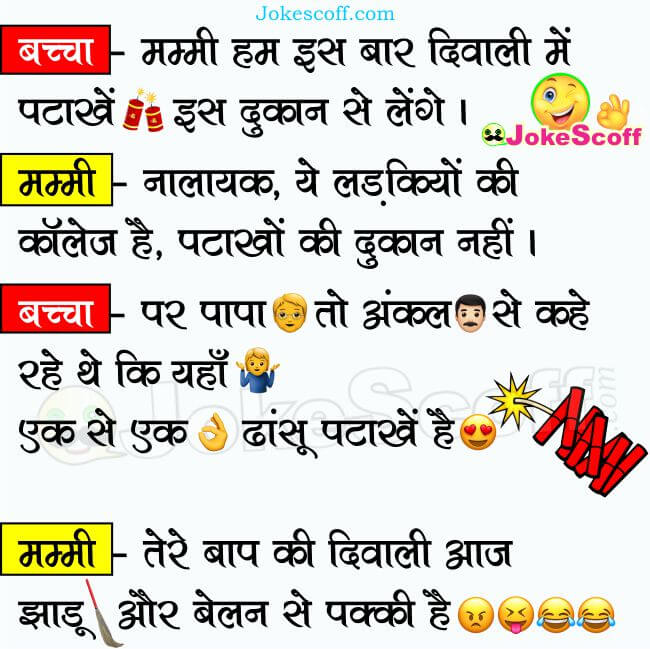 बच्चा – मम्मी हम इस बार दिवाली में पटाखें इस दुकान से लेंगे ।
मम्मी – नालायक, ये लड़कियों की कॉलेज है, पटाखों की दुकान नहीं ।
बच्चा – पर पापा तो अंकल से कहे रहे थे कि यहाँ
एक से एक ढांसू पटाखें है ।
मम्मी – तेरे बाप की दिवाली आज झाड़ू और बेलन पक्की है ।
Bachcha : Mammy hum is bar diwali me patakhe is dukan se lenge.
Mammy : Nalayak, Ye ladkiyon ki college hai, Patakho ki dukan nahi.
Bachcha : Par papa to uncle se kahe rhe the ki, Yaha ek se ek dhansu patakhe hai.
Funny Diwali Crackers Jokes in Hindi
जब कोई पटाखा थोड़ा-सा जलकर फुस्स हो जाता है,
तो उसे पैर से कुचल कर कुछ लोग ऐसे फील लेते है
जैसे टाईम बम डिफ्यूस कर सबको बचा लिया हो…
Jab koi patakha thoda-sa jalkar fuss ho jata hai,
to usse pair se kuchal kar kuch log aise feel lete hai
jaise time bomb defuse kar sabko bacha liya ho…
Amazon Flipkart Snapdeal and Ebay Diwali Sell Jokes
Amazon – ग्रेट इंडियन फेस्टिवल
Flipkart – बिग बिलियन डे
Snapdeal – अनबोक्स दिवाली सेल
Ebay – अरे, ई सब का है बे
Amazon : Great Indian Festival
Flikart : Big Billion Day
Snapdeal : Unbox Diwali Sell
Ebay : Arey, E sab ka hai be
Yogi Adityanath Diwali Jokes for WhatsApp
ब्रेकिंग न्यूज
योगी सरकार का एक और बड़ा बदलाव
दिवाली शब्द में अली शब्द आता है इसलिये
दिवाली का नाम बदलकर
दीनदयाल दीया-बाती धूम-धड़ाका पर्व घोषित किया जा सकता है ।
Breaking News
Yogi Sarkar ka ek aur bada badlav
Diwali Sabd mein Ali Sabd aata hai
Isliy Diwali ka naam Badalkar
Dindayal Diya-bati Dhum-dhadaka Parv Ghosit kiya ja sakta hai.
Emotional Message Funny Jokes for WhatsApp
कृपया इस दिवाली दीपक में तेल डालकर तेल बर्बाद ना करें
वो तेल किसी गरीब को दे दें, जिससे वो पूड़ी-भजिये बनाकर दिवाली मना सकें
.
इस मेसेज को पढ़कर मैं भावुक हो गया हुँ
इससे प्रभावित होकर मैंने डिसाइड किया है कि,
इस बार पाँच दीपक कम लगाउंगा, और उस बचे हुए तेल को
एक लठ्ठ पे लगाकर रखूँगा
और इस तरह के मेसेज भेजने वालों को इसी लठ्ठ से हैप्पी दिवाली बोलूँगा ।
Kripya is diwali Dipak mein Tel dalkar tel barbad na karein
Vo tel kisi garib ko de de,
Jisse wo pudi-Bhajiye banakar diwali mana sake
Isse prabhavit hokar meine deside kiya hai ki,
is bar Panch dipak kam lagaunga, Aur us bache hue tel ko
1 lat'th pe lagakar rakhuga
Aur is tarah ke message bhejne walo ko isi lat'th se Happy Diwali Boluga.
Boycott China Product Funny Jokes for Diwali Lights
अब की बार इस दिवाली मैं चायना की लाईट्स नहीं खरीदूँगा
.
.
मेरे पिछली साल वाली लाइट्स पड़ी है
और चेक भी कर ली है,
बिलकुल सही है ।
Ab ki bar is Diwali mein China ki lights nahi kharidunga
.
Mere pichli saal wali Lights padi hai
Aur check bhi kar li hai,
Bilkul sahi hai.
Very Funny Diwali Jokes
हे भगवान… हे देवी माँ…
सभी महिलाओं को घर में दिवाली की सफाई करने में भी
वैसी ही शक्ति देना
जैसी 9 दिन गरबा खेलने के लिये दी थी ।
He Bhagwaan… He Devi maa..
Sabhi mahilaon ko ghar me Diwali ki Safai karne me bhi
Vaisi hi shakti dena
Jaisi 9 din garba khelne ke liye di thi
Diwali Jokes in Hindi for WhatsApp and Facebook
दिवाली में पटाखें मत जलाओ
होली में पानी मत बहाओ,
संक्रांति में पतंग मत उड़ओ
अरे ! जज साहब, आखिर चाहते क्या हो आप ?
.
हर त्योहार में सिर्फ दारू ही पिये क्या ?
Diwali me pathake mat jalao
Holi me pani mat bahao
Sankranti me Patang mat udao,
Arey ! judge sahab, Aakhir chahte kya ho aap?
.
Har tyohar me sirf Daru hi piye kya ?
So finally this is our best Diwali Funny Jokes and Diwali Funny Images collection which makes by Jokescoff.com. Please tell us your feedback for this jokes. and also do like this page, your small effort to make us motivate. Thanks.