Funny BJP Hindi Jokes on Barber, Modi and Amit Shah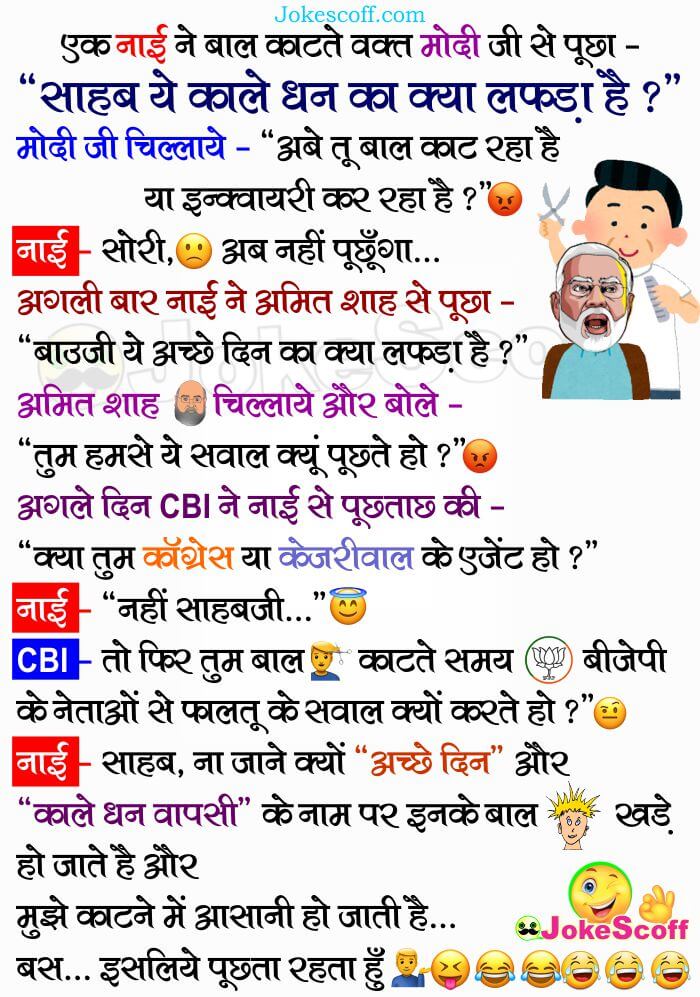 एक नाई ने बाल 💇‍♂️ काटते वक्त मोदी जी से पूछा –
साहब ये काले धन का क्या लफड़ा है ?🤔
मोदी जी चिल्लाये – 😡 अबे तू बाल काट रहा है, या इन्क्वायरी कर रहा है ?
नाई – सोरी, अब नहीं पूछूंगा..😟
अगली बार नाई ने अमित शाह से पूछा – 😠 बाउजी ये अच्छे दिन का क्या लफड़ा है ?
अमित शाह चिल्लाये और बोले – तुम हमसे ये सवाल क्यूं पूछते हो ?
अगले दिन CBI ने नाई से पूछताछ की – क्या तुम काँग्रेस या केजरीवाल के एजेंट हो ?🤔
नाई – नहीं साहबजी…🙄
CBI : तो फिर तुम बाल काटते समय BJP के नेताओं से फालतू के सवाल क्यों करते हो ?🤔
नाई – साहब, ना जाने क्यों "अच्छे दिन" और "काले धन वापसी" के नाम पर इनके बाल खड़े हो जाते है और
मुझे काटने में आसानी हो जाती है…😄😁
बस… इसलिये पूछता रहता हुँ…😝😜🤪😛


Eng text:
Ek Nai ne bal kat'te waqt Modi ji se pucha – Sahab ye Kale dhan ka kya Lafda hai?
Modi Ji Chillaye – "Abe tu Bal kat rha hai ya Inquiry kar rha hai?
Nai: Sorry, Ab nahi puchhunga.
Agali bar Nai ne Amit Shah se pucha: Bauji ye Achche din ka kya Lafda hai?
Amit Shah Chillaye aur bole – tum humse ye Sawal kyu puchhte ho?
Agale din CBI ne Nai se puchhtachh ki – Kya tum Congress ya Kejariwal ke Agent ho?
Nai – Nahi Sahab ji…
CBI: To fir tum bal kat'te samay BJP ke netao se faltu ke sawal kyo karte ho?
Nai: Sahab, Na jane kyo "Achchhe din" aur "Kale Dhan Wapasi" ke naam par inke baal khade ho jate hai, Aur muje katne me aasani ho jati hai…
Bas… Isliye puchta rahta hu…
Ha ha ha! Namskar! Kaisa laga ye Funny jokes ye humein comment ke dwara jaroor bataiye. Agar pasand aaya ho to like jaroor kariye, Aur share karke dusro ko bhi hasaiye.
Funny Political Jokes: Aise hi new aur latest Jokes aur chutkulo ke liye visit karte rahiye Jokescoff.com ko. Hum aapke hasi ke liye sada tatpar rahte hai. Like aur share karke Aap hamara aise hi manobal badhate rhiyega. Aapke like se hamare karya karne ki ruchi me vriddhi hoti hai. Jokes pasand aaye to khud hi akele akele na hasein :) Apne friend aur reletive ko bhi share karke unko bhi hasaiye. Jokescoff App ko bhi Install Kijiye. Jokes ke sath jude rahene ke liye aap hamare FB and Twitter page @JOKESCOFF ko bhi follow kar sakte hai. Mast Raho… Swasth Raho Mast Raho.. Sada hastey raho… Hasatein Raho.. Thanks.