Very Funny Maths Formula Shayari Jokes in Hindi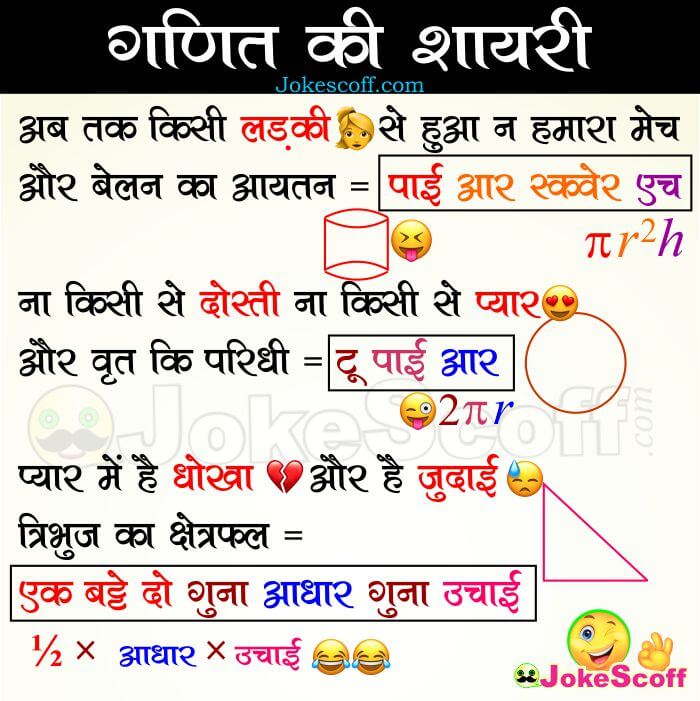 अब तक किसी लड़की से हुआ न हमारा मेच
और बेलन का आयतन = पाई आर स्कवेर एच 😜
ना किसी से दोस्ती ना किसी से प्यार
बोइस एटीट्यूड स्टेट्स - Hindi, English - TopQuoteStatus
और वृत कि परिधी = टू पाई आर😆
प्यार में है धोखा और है जुदाई
त्रिभुज का क्षेत्रफल = एक बट्टे दो गुना आधार गुना ऊँचाई🤣🤣🤣


Eng text:
बोइस एटीट्यूड स्टेट्स - Hindi, English - TopQuoteStatus
Ab tak kisi ladki se hua na hamara match
Aur Belan ka aaytan = Pai R Square H
Na kisi se dosti na kisi se Pyar
Aur Vrut ki paridhi = Two Pai R
Pyar mein hai Dhokha aur hai Judai
Tribhuj ka Kshetrafal = Ek batte do guna aadhar guna unchayi
Ha ha ha! I hope ki ab Ganit aapko Easy lagne lagega aur Ye formule to aapko yad ho hi jayenge :) Namskar! Kaisa laga ye Funny jokes ye humein comment ke dwara jaroor bataiye. Agar pasand aaya ho to like jaroor kariye, Aur share karke dusro ko bhi hasaiye.
Maths Formula Funny Shayari: Aise hi new aur latest Jokes aur chutkulo ke liye visit karte rahiye Jokescoff.com ko. Hum aapke hasi ke liye sada tatpar rahte hai. Like aur share karke Aap hamara aise hi manobal badhate rhiyega. Aapke like se hamare karya karne ki ruchi me vriddhi hoti hai. Jokes pasand aaye to khud hi akele akele na hasein :) Apne friend aur reletive ko bhi share karke unko bhi hasaiye. Jokescoff App ko bhi Install Kijiye. Jokes ke sath jude rahene ke liye aap hamare FB and Twitter page @JOKESCOFF ko bhi follow kar sakte hai. Mast Raho… Swasth Raho Mast Raho.. Sada hastey raho… Hasatein Raho.. Thanks.
TopQuoteStatus - बहेतरीन स्टेट्स और कोट्स