Very Funny Jokes on Exam Time. Students Very Funniest Jokes.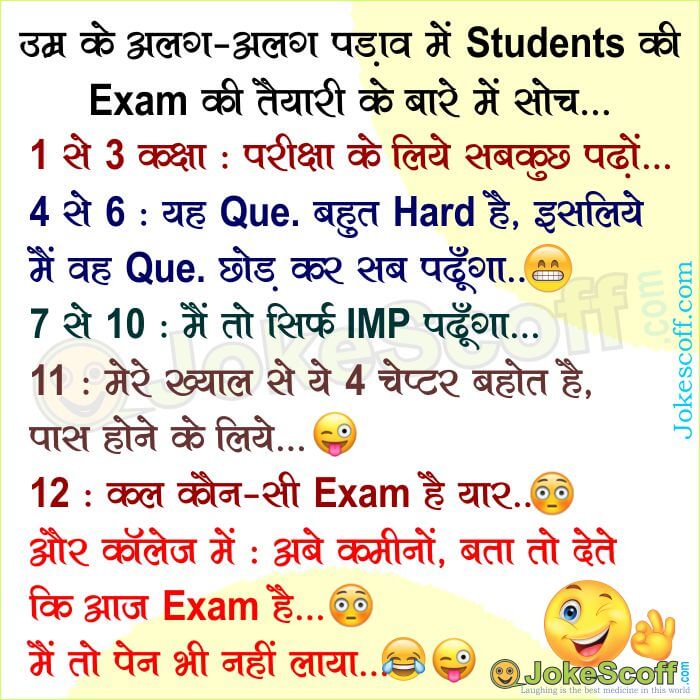 उम्र के अलग-अलग पड़ाव में Students की Exam की तैयारी के बारे में सोच…
1 से 3 कक्षा – परीक्षा के लिये सबकुछ पढ़ों…
4 से 6 – यह Que. बहुत Hard है, इसलिये मैं वह Que. छोड़ कर सब पढूँगा…
7 से 10 – मैं तो सिर्फ IMP पढूँगा…
11 – मेरे ख्यल से ये 4 चेप्टर बहोत है, पास होने के लिये…
12 ः कल कौन-सी Exam है यार…
और कॉलेज – अबे कमीनों, बता तो देते कि आज Exam है…. मैं तो पेन भी नहीं लाया ।
Eng Text :
Age ke alag-alag padav me Students ki Exam ki Taiyari ke bare me soch.
1 To 3 Std. : Exam ke liye sab kuch padho…
4 to 6 : Ye Que. bahut hard hai, Isliye mein wo que. chhod kar sab padhuga.
7 to 10 : Mein to Sirf IMP padhunga…
11 : Mere khayal se ye 4 chapter bahot hai, Pass hone ke liye.
12 : Kal kon si Exam hai yaar.
And College : Abey kamino ! Bata to dete ki aaj Exam hai. Mein to Pen bhi nahi laya.