Are you find a Friendship day very Funny wishes and Jokes in Hindi? Friendship day is coming on this august month's first sunday 2018. So You can Find here Very funniest Hindi SMS collection for Friendship day. All Jokes in Hindi language. This is very funny Friends jokes. This Funny friendship Day SMS and Jokes you can post via single click on WhatsApp you Can Also share this Funny Messages via copy on Facebook and other social network. I hope that, you will enjoy this article. Thanks.

Funny Friendship Day Messages
मैंने मेरी Friends का चहेरा थप्पड़ 👋 मार-मार कर लाल कर दिया…
क्योंकि उसने मुझे कहां कि, 👉 "थप्पड़ से डर नहीं लगता सहेब, 😏 प्यार ❤️ से लगता है…"?😂🤣😜😜

Mene meri friends ka chahera thappad-de-thappad maar-mar kar laal kar diya…
Kyo ki usne muje kaha ki "Thappad se dar nahi lagta saheb, Pyar se laga hai.."
ये मत सोचना की Friendship करके भूल जायेंगे तुम्हें,🙃
दूर रहकर भी चाहेंगे तुम्हें,😘
अगर दोस्त बनकर रास ना आये तो…😎
भूत 👹👿 बनकर आयेंगे और डरायेंगे तुम्हें…😂🤣😜😜

TopQuoteStatus - बहेतरीन स्टेट्स और कोट्स
Ye mat sochna ki friendship kakr bhul jayenge tumhein,
Dur rahkar bhi chahenge tumhein,
Agar Dost bankar ras na aaye to…
Bhut bankar aayenge aur darayenge tumhein…
दोस्त रूठे तो रब रूठे,🙁
फिर रूठे तो जग छुटे,🙁
फिर रूठे तो दिल तुटे,☹️
अगर फिर भी रूठे तो…😣
उतार चप्पल और मार साले को…😠
जबतक चंप्पल 👟 ना तूटे…😂🤣😜😜

Dost ruthe to rab ruthe,
Fir ruthe to dil tute,
Agar fir bhi ruthe to..
Utar chappal aur mar sale ko
Jab tak Chappal na tute…
Funny Friendship Day Jokes
TopQuoteStatus - बहेतरीन स्टेट्स और कोट्स
यह भी देंखे : Friends Insult jokes in Hindi
देख भाई – दोस्ती पक्की पर खर्चा अाधा-आधा…?😜😜😜😜😜

Dekh bhai : Dosti pakki par Kharcha Adha-Aadha
सबसे अलग सबसे प्यारे हो आप,😘
तारीफ पुरी ना हो इतने प्यारे हो आप,😌
आज पता चला ये ज़माना क्यों जलता 🔥 आपसे…
क्योंकि…
Friends तो आखिर हमारे हो आप 😂🤣😜😜

Sabse alag sabse pyare ho aap,
Tarif puri na ho itne pyare ho aap,
Aaj pata chala ye jamana kyo jalta hai aapse…
kyo ki, Friend to aakhir hamare ho aap !
Very Funny Friendship Day Jokes in Hindi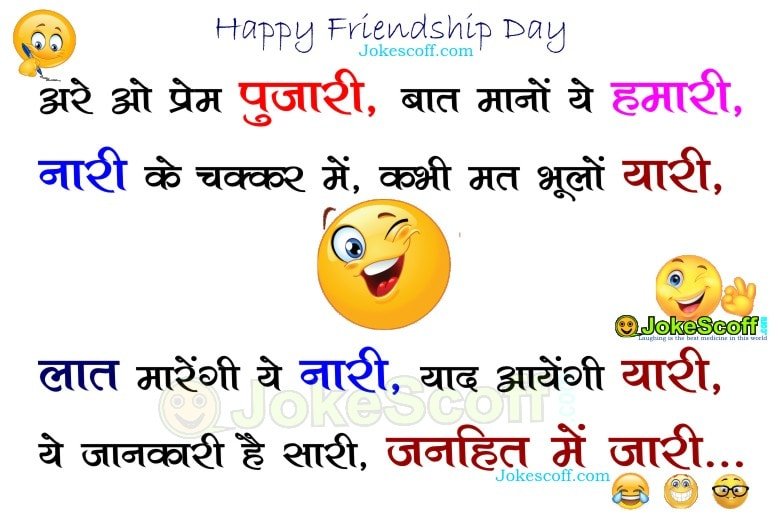 अरे ओ प्रेम ❤️ पुजारी, बात मानों ये हमारी,
नारी 👩 के चक्कर में, मत भूलों कभी यारी,
लात मारेंगी ये नारी, याद आयेंगी यारी,🤨
ये जानकारी है सारी, जनहित में जारी…😂🤣😜😜
🙏फ्रेन्डशिप डे की बधाईयाँ🙏

Arey o prem pujari, Baat mano ye hamari,
Nari ke chakkar me, Mat bhulo kabhi Yari,
Laat marengi ye nari, Yad aayengi Yari,
Ye jankari hai sari, Janhit me Jari…
Happy Friendship Day (Jokes)
मोहब्बत 💖 का सिरप हो तुम,
टेन्शन का केप्स्युल💊 हो तुम,
आफत का इंजेक्शन 💉 हो तुम,
पर करें क्या आखिर
क्योंकि 💞 दोस्ती का #ओक्सीजन हो तुम…😂🤣😜😜
(Har k Friend Jaroori hota hai.)?

Mohbbat ka syrup ho tum, Tension ka capsule ho tum, Aafat ka injection ho tum, Par krein kya akhir…
Kyon ki Dosti ka Oxygen ho tum… (Har ek friends jaroori hota hai.)
Happy Friendship day
खुदा करें मोबाईल 📱 तेरा खो जायें,
मिले मुझे और मेरा हो जाये…😛
फिर में लड़कियों 👱‍♀️ को Message करूँ तेरे नाम पर
मार 👋 तुझे पड़े और कलेजा ठंडा मेरा हो जाये…😂🤣😜😜

Khuda kare mobile tera kho jaye,
Mile muje aur mera ho jaye…
Fir me ladkiyo ko message kru tere naam par,
Mar tuje pade aur kaleja thanda mera ho jaye…
Recommended for you : Happy Friendship Day SMS Messages for WhatsApp
Very Funny Friendship Day Wishes
I think I'm disturbing you
Sorry !!!🙄
This is my last message and
I will not SMS you anymore . . .
Good bye…✋
.
.
.
Never expect that from me
I'm born to disturb u…😂😂

तलवार 🗡 से Dosti, जानको खतरा…
सरदार 👳‍♂️ से Dosti, दिमाग 🧠 को खतरा…
दारू 🍷 से Dosti, लिवर का खतरा…
और
हमसे दोस्ती, रात-बे-रात SMS-Messages का खतरा…😂🤣😜😜

Talwar se dosti, Jaan ko khatra..
Sardar se Dosti, Dimag ko khatra…
Daru se dosti, Liver ko khatra…
Aur
Humse Dosti, Raat-be-Raat SMS ka khatra…
Funny Hindi Friendship Day Wishes
True Friendship Jokes :
सच्चे दोस्तों की 3 निशानियाँ👇
बेवक्त मिसकॉल 📲 करेंगा,
SMS 📩 मुस्कुरा कर पढ़ेगा,
नीचे मत 🚫 पढ़ना…?
.
.
.
.
जो काम मना करों वो बेवकूफ़ पहले करेंगा…🤨
Happy Friendship Day my Friends😂🤣😜😜

Also View this Friendship Quotes in Hindi
👉 Friendship Quotes in Hindi
Friendship Day Funny Jokes: Friendship day ke liye banaye gaye ye jokes aapko kaise lage ye humein aapke comment dwara jaroor bataye. Aur bhi new Jokes dekh sakte hai. Frienship day ki aap sabhi ko bahut bahut badhaiyan, Hope ki aapko ye post pasand aaya hoga, Pasand aaye to like aur share kar page ki Pragati me saath de. Thanks.
TopQuoteStatus - बहेतरीन स्टेट्स और कोट्स