Hilarious Rose Day Funniest Jokes in Hindi
Today 7 February Rose Day 2022, Started Valentine Week. We share with you Very Funniest Jokes for ROSE DAY.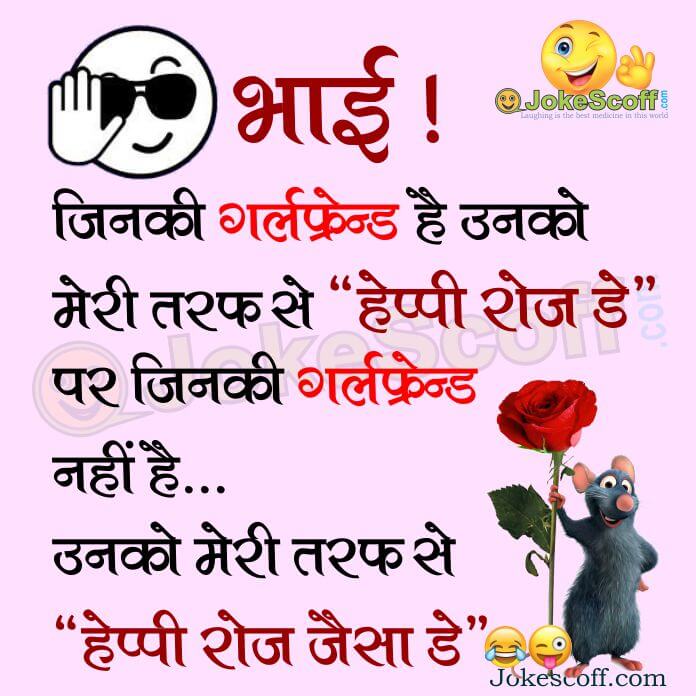 Rose Day Funniest SMS
भाई !! जिनकी गर्लफ्रेन्ड है उनको मेरी तरफ से "हेप्पी रोज डे"
पर जिनकी गर्लफ्रेन्ड नहीं है…
उनको मेरी तरफ से
"हेप्पी रोज जैसा डे"
Eng text:
Bhai ! Jinki Girlfriend hai Unko meri taraf sae
"Happy Rose Day"
Par Jinki Girlfriend nahi hai….
Unko Meri taraf se "Happy Rose Jaisa Day"
यह भी पढ़िये
Happy Rose day Funniest SMS: Ha ha ha…. Agar Jokes pasannd aaye to like jaroor karein, Akele akele mat hasiye😊 Khud bhi hasein aur logo ko bhi hasaye. Hastey Raho… Hasatey Raho… Swasth Raho… Mast Raho… Sada Hastey Raho… Happy rose Day… Thanks.