Collection of awesome Gujarati Jokes. Here all superb Funny SMS and Images Jokes in Gujarati. Aa Gujarati Jokes vachine tamne hasu to aavsej. Gujarati Jokes Images or Pics in High Quality…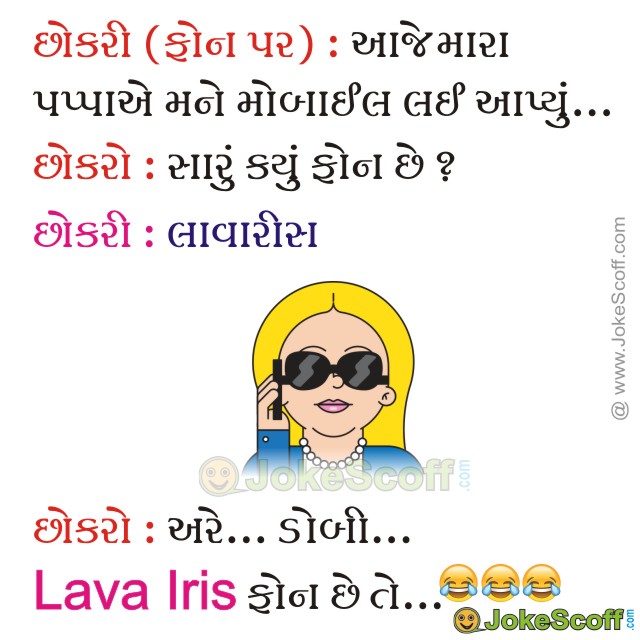 Masaan ma 3 khopdi padi hati ane
Kutro ek j khopdi ne chati rahyo hato…
Kem ???
Karan ke
Paheli Lover ni khopdi hati jene Girlfriend chati gayi ane
Biji parneli khopdi hati jene Gharwadi chati gayi
********************
Friend na marriage ma 3 Idiots chokra :
Chokro 1 : Yaar… te "Pida" color wadi maari ho…
Chokro 2 : Saru to te "Kada" color wadi maari…
Chokro 3 : Ok to te "Laal" color wadi mari…
Etla ma Var Raja bolyo…
Nalayako Sharam karo…
Tame loko Laal wadi na j Lagan maa aavya cho..
Haramiyo…
********************
Teacher : Chal batay ke 4 and 4 ketla thay ?
Pappu : 10 thay…
Teacher : Tara bapa ye karyu hatu aavu ganit…
10 thay doba…
Pappu : Arey tame su jano…
Ame Dildaar gharna chiye…
2 me mara taraf thi nakhya che…
********************
Girl : Pappa e aaj maru Bank account kholavyu…
Boy : Saru… Kya bank ma ?
Girl : Ye chaddi Ye Fasi…
.
.
.
Boy : Abe dobi…
HDFC bolne…
********************
Girl (phone par) : Aaj mara Pappa e mane Mobile lai aapyu…
Boy : Saru… Kyu mobile che ?
Girl : Lavarish
Boy : Arey dobi…
Lava Iris phone che te…
********************
Pappu ek var safarjan lavyo
Pan temathi Jivadu nikdyu…
Pappu (Safarjan vada ne) : Aama to Jivdu nikdyu… Kevu aapyu tame…
Safarjan vado : Arey ! Aato kismat ni vaat che…
Aaje Jivdu nikdyu…
Si khabar
Kale Car ane Bike nikde…
Pappu : 5 kilo haji aapi do…
********************
Atyare j khabar madi che ke…
Modi sarkare akha desh ma Wi-Fi lagavi didhu che…
Temne em pan kidhu che ke
"Jo tame mane 2019 ma farithi jitavi deso to
Password pan batavi dais"
********************
Guthka khava vada pan Ghana sanskari hoy che…
Te khubaj Saant ane Maun swabhav n ahoy che…
Te thukine tyare j jwab aape che
Jyare VAAT ni Kimat
moma padela Guthka ni kimat karta
vadhare hoy….
Hindi Ma Latest Jokes Mate Ahi Click karo
All Gujarati Jokes are very funny. Jo aa Gujarati ma Jokes tamne pasand aavya hoy to amaro utsah ane josh vadharva mate aap Comment dwara amne janavi sakocho… Aagad pan aa page par Ghana Gujarati Funny SMS jokes Update thata raheshe. mate Jovanu na bhulta Fakt Jokescoff par Gujarati Jokes.