Automatic TV in 55000 Rs. Marathi Funny Jokes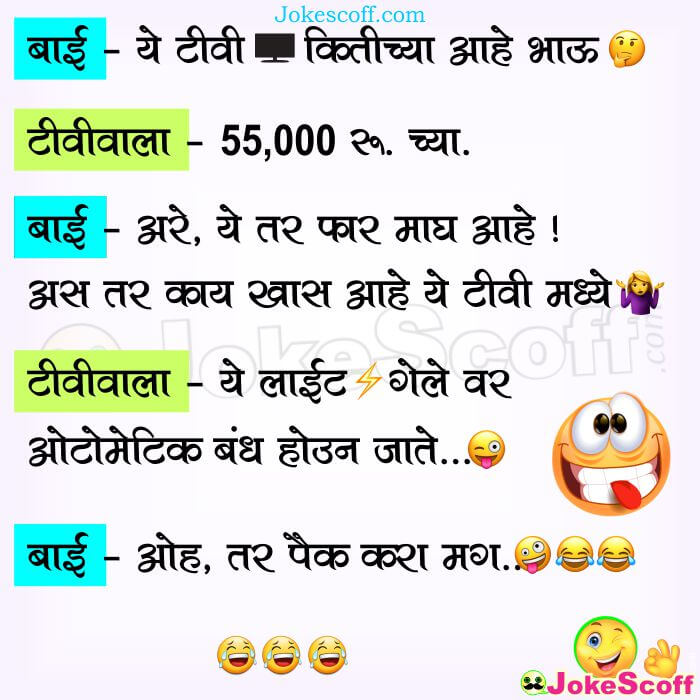 Bai: ye TV kitichya ahe bhau?
TVvala: 55000 Rs. chya?
Bai: Arey, Ye tar faar magh aahe!
Asa tar kay khas aahe ye TV madhye?
TVvala: Ye light gele var Automatic bandh houn jate.
Bai: Oh! Tar pack kara mag.
Hindi Trans:
Aurat: Ye TV kitne ka hai bhai?
TVvala: 55000 Rs. ka.
Aurat: Arey ye to bahot mahanga hai!
aisa to kya khaas hai is TV mein.
TVvala: Ye light jane ke bad automatic bandh ho jata hai.
Aurat: Oh, to pack kar do fir.
Kharach Jordar Automatic TV hay o… :):)
Dear pathak! Aapko ye Funny Marathi Jokes kitna psand aaya ye humein jaroor bataye, Hum aapki hasi ke liye sada work karte rahte hai. Aapko khusi dekar humein atayant khusi milti hai, Aapki khusi ka madhyam banna hamare liye atayant saubhagya ki baat hai hai.
Automatic TV Marathi Jokes: Aise hi new New High Quality and Funny Marathi Jokes ke liye jokescoff pe sada aate jate rahiye :) Aur apni life me se thoda sa tension kam kijiye. Laughing ek best medician hai hamare sharir ke liye. Hastey rahiye aur hasatey bhi rahiye. Hum aise hi aapki hasi ke madhyam bante rahenge. Swasth raho… Mast Raho… Sada hastey Raho… Hastey Raho… Dhanyawaad!