Looking for Best Funny Shayari… Here Jokescoff provide a very very funny shayari in hindi. Superb and Awesome Jokes type Shayari collection. funny shayari in High Quality Images. हिंदी शायरी.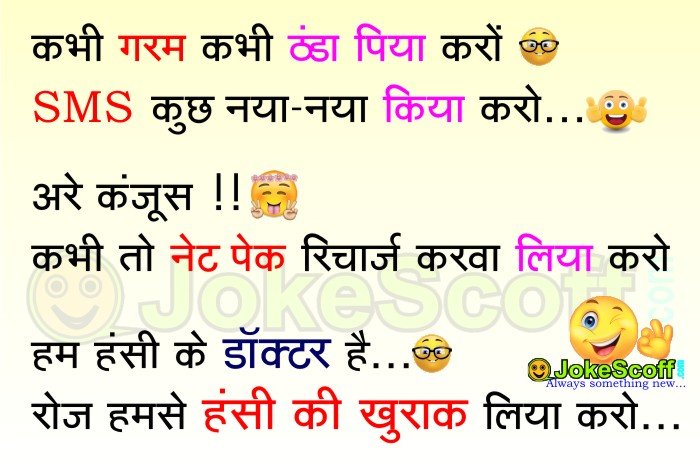 कभी गरम कभी ठंडा पिया करों
SMS कुछ नया-नया किया करों…
अरे कंजूस !!!
कभी तो नेट पेक रिचार्ज करवा लिया करों…
हम हंसी के डॉक्टर है…
रोज हमसे हंसी की खुराक लिया करो….
*************************
Kabhi garm kabhi thanda piya karo,
SMS kuch naya-naya kiya karo…
Arey kanjoosh !!!
Kabhi net pack Recharge karva liya karo….
Hum hansi ke doctor hai…
Roj humse hansi ki khurak liya karo….
Facebook and Whatsapp is the very well social experiment that encourages you to share your feelings and status with fit quotes. Here, We have a hug collection of Funny Shayari, funny shayari in hindi, love shayari for whatsapp, Funny sad Shayari, Flirt SMS.