Funny WhatsApp Gujarati Jokes: Advice Jokes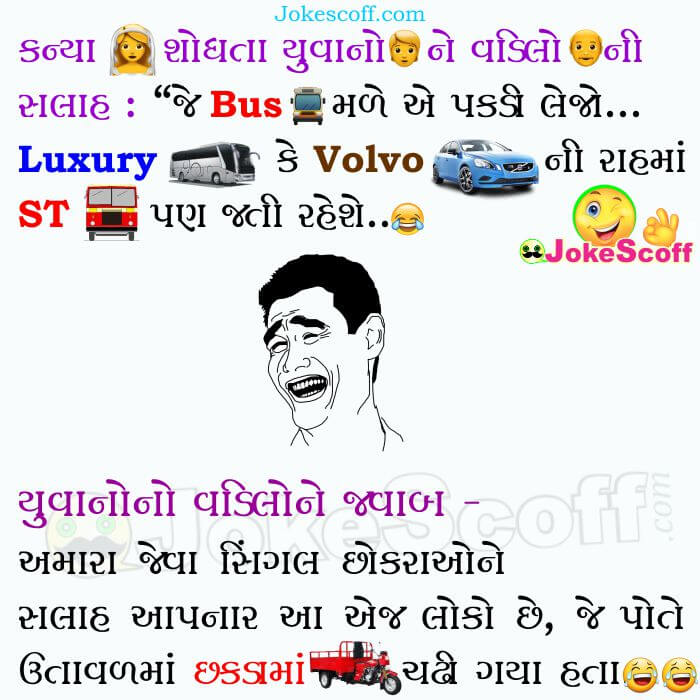 Kanya shodhta yuvano ne vadilo ni salah:
Je Bus made e pakdi lejo…
Luxury ke volvo ni rah ma
ST pan jati raheshe…
Yuvanono Vadilo ne jawab:
Amara jeva Single chokraone Salah aapnar
Aa e j loko che, Je pote Utavad ma
Chhakda ma chadhi gya hata.
Hindi trans:
Kanya dhundh rhe Yuvako ko Vadilo ki Salah:
Jo Bus mile use pakad lo…
Luxury ke Volvo ki rah me ST bhi chali jayegi.
Yuvako ka Vadilo ko jawab:
Hamare jaise Single Ladko ko Salah dene wale
Ye wohi log hai,
Jo Kudh jaldi me Chhakde me chadh gye the.
Funny Gujarati Jokes: Jokes pasand aave to like karva nu na bhulta, Tamara like thi amne kaam karvanu umang jagave che.
Aavaj Nava Nava jokes mate banya raho Jokescoff ni sathe. Pote pan haso, and Bijane pan hasavo. Swasth Raho… Mast Raho… Sada Hasta Raho… Aabhar!