Pappu and Chacha Jokes – Water Tank Buy Pappu Jokes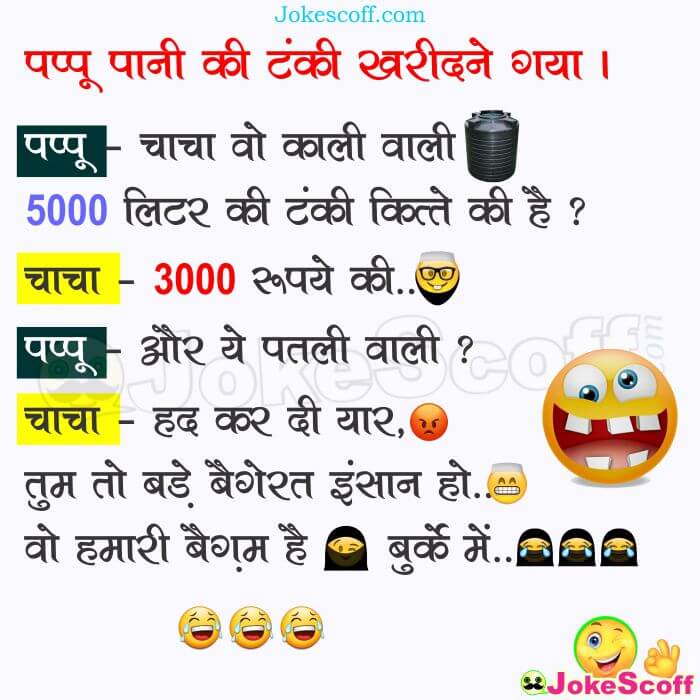 पप्पू पानी 💧 की टंकी खरीदने गया ।
पप्पू – चाचा वो काली वाली 5000 लिटर की टंकी कित्ते की है ?☹️
चाचा – 3000 रू. की…🙂
पप्पू – और ये पतली वाली ?😍
चाचा – हद कर दी यार, तुम तो बड़े बैगेरत इंसान हो,🤬😡
वो हमारी बैगम 👩 है बुर्के में…😂😂😂😂
Eng text:
Pappu Water Tank kharidne gya.
Pappu: Chacha wo kali wali 5000 liter ki tanki kit'te ki hai?
Chacha: 3000 liter ki…
Pappu: Aur ye Patali wali?
Chacha: Had kar di yar, Tum to bade baigerat insaan ho,
Wo hamari Begam hai burke mein.
Water Tank Buy Pappu Jokes: Ha ha ha! Pappu bhi bahot baigerat Insaan hai, Burke me Aurat aur Pani ki tanki mein farak bhi nahi pata chalta. Khair aapto haste rahiye. Chaliye Friends Bataiye ki ye Pappu Jokes aapko Kaisa laga, Agar aapko ye Jokes pasand aaya ho to like jaroor karein. Aise hi new Jokes ya Funny SMS stuff ke liye hamare FB page ko bhi aap like ya follow kar sakte hai hum waha bhi jokes share karte rahete hai.
Aapke like karne se hamare karya karne ki ruchi me ijafa hota hai. aur ha Jokes pasand aa rhe hai to Khud hi akele akele na hasein :) Apne Relatives ya friends ko WhatsApp, Facebook par share kar unko bhi hasaiye. Haste rahiye hasate rahiye, Swasth Rahiye aur Mast Rahiye. Dhanyawad!