Funny Tips for Your Health Jokes for WhatsApp – Baba Aaramdev: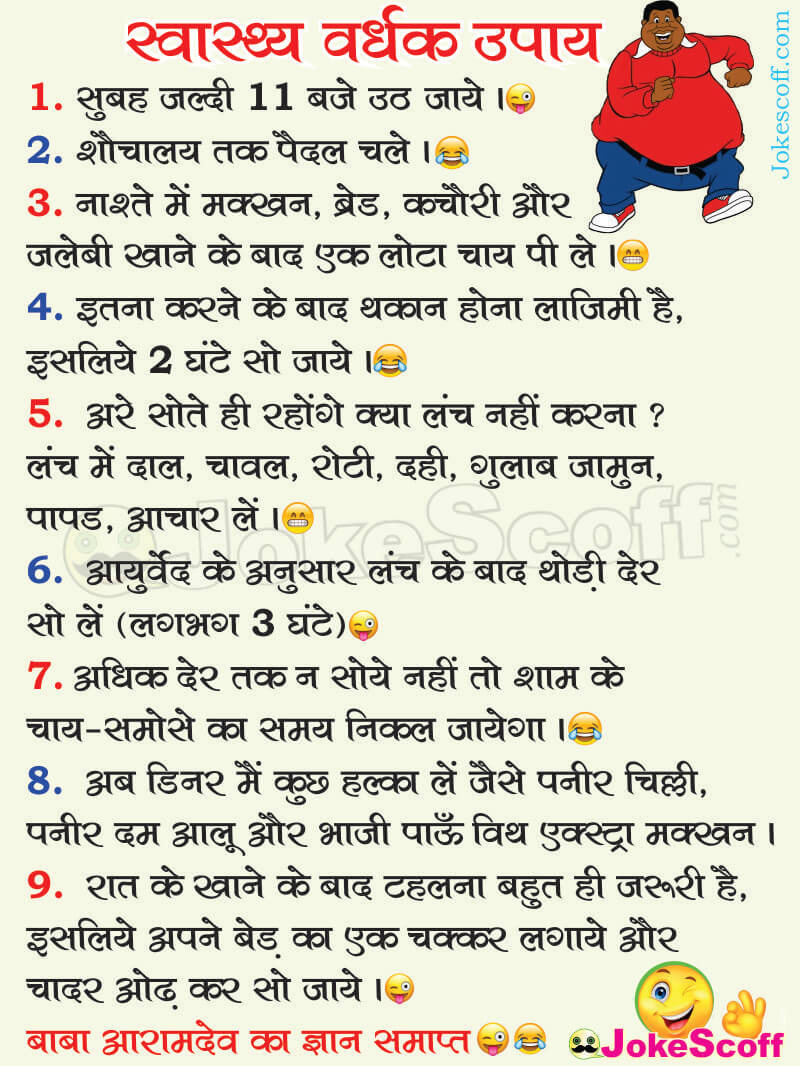 स्वास्थ्य वर्धक उपाय –  बाबाआरामदेव का ज्ञान
सुबह जल्दी 11 बजे उठ जाये ।
शौचालय तक पैदल चले ।
नास्ते में मक्खन, ब्रेड, कचौरी और जलेबी खाने के बाद एक लोटा चाय पी ले ।
इतना करने के बाद थकान होना लाजमी है, इसलिये 2 घंटे सो जाये ।
अरे सोते ही रहोंगे क्या लंच नहीं करना ? लंच में दाल, चावल, रोटी, दही, गुलाब जामुन, पापड, आचार ले ।
आयुर्वेद के अनुसार लंच के बाद थोड़ी देर सो लें (लगभग 3 घंटे)
अधिक देर तक न सोये नहीं तो शाम के चाय-समोसे का समय निकल जायेगा ।
अब डिनर में कुछ हल्का लें, जैसे पनीर चिल्ली, पनीर दम आलू और भाजी पाऊ विथ एक्स्ट्रा मक्खन ।
रात के खाने के बाद टहलना बहुत ही जरूरी है, इसलिये अपने बेड का एक चक्कर लगाये और चादर ओढ़ कर सो जाये ।
बाबा आरामदेव का ज्ञान समाप्त
Eng text:
Funny Healthy Tips
Subah jaldi 11 baje uth jaye.
2. Sauchalay tak paidal chale.
3. Naste me makkhan, bread, kachauri aur jalebi khane ke bad 1 lota Chay pi le.
4. Itna karne ke bad thakan hona Lajmi hai, Isliye 2 ghante so jaye.
5. Arey sote hi rahoge kya Launch nahi karna? Launch me Dal, Chawal, Roti, Dahi, Gulab Jamun, Papad, Aachar le.
6. Aayurved ke anusar launch ke bad thodi der so le. (Lagbhag 3 hour)
7. Adhik der tak na soye nahi to sham ke chay-samose ka samay nikal jayega.
8. Ab Diner me kuch halka le jaise Panir Chilli, Pani dam aalu aur Bhaji Pau with extra makkhan.
9. Raat ke khane ke bad tahalna bahut hi jaroori hai, Isliye apne Bed ka 1 chakkar lagaye aur Chadar odh kar so jaye.
~ Baba Aaramdev ka Gyan Samapt