Very Funniest Patel Vs Vaniyo Jokes in Gujarati: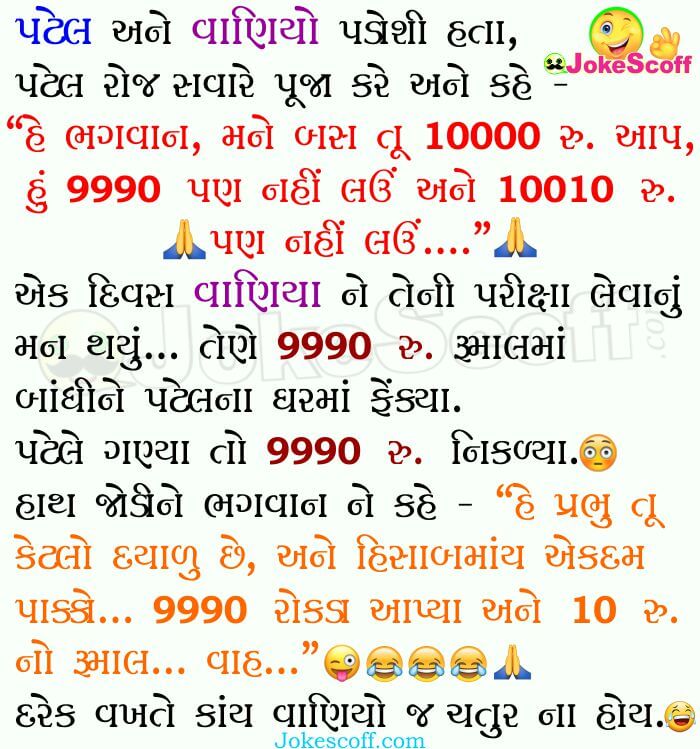 Patale ane vaniyo padoshi hata,
Patel Roj Saware puja kare ane kahe –
"Hey bhagwan, Mane Bas tu 10000 Rs. aap,
Hu 9990 pan nahi lau ane 10010 Rs. pan nahi lau."
Ek Divas Vaniya ne teni pariksha levanu man thayu…
Tene 9990 Rs. Rumalma Bandhine Patelna Gharma Fenkya.
Patele Ganya to 9990 Rs. Nikadya.
Hath jodi ne Bhagwan ne kahe:
"Hey prabhu tu ketlo dayalu che,
Ane Hisabmay ekdam pakko… 9990 Rokda aapya ane
10 Rs. no rumal… Wah !"
Darek vakhte kay Vaniyo j chatur na hoy…
Hindi Trans:
Patel aur Vaniya Padoshi the,
Patel Roj subah puja karta aur kaheta –
"Hey Bhagwan, Muje bas tu 10000 Rs. De,
Mein 9990 bhi nahi lunga aur 10010 Rs. bhi nahi lunga…"
Ek din vaniya ko uski pariksha lene ka man hua.
Usne 9990 Rs. Rumal me bandhkar Patel ke ghar me fenka.
Patel ne gina to 9990 Rs. nikle.
Usne Hath jod kar bhagwan ko kaha –
"Hey Prabhu tu kitna dayalu hai, aur Hisab me bhi ek dam pakka…
9990 Rs. Rokda diya aur 10 Rs. ka Rumal… Wah"
Har bar Vaniya hi chatur nahi hota…
Patel Vs Vaniyo Gujarati Jokes: Jokes pasand aayu? Jo Pasnd aavyu hoy to like karvanu na bhulta.
Nava Nava Jokes mate Regular Visit karta raho Jokescoff ne. Sawasth Raho… Mast Raho… Hamesa Hasta Raho…