Pappu and Doctor Jokes in Hindi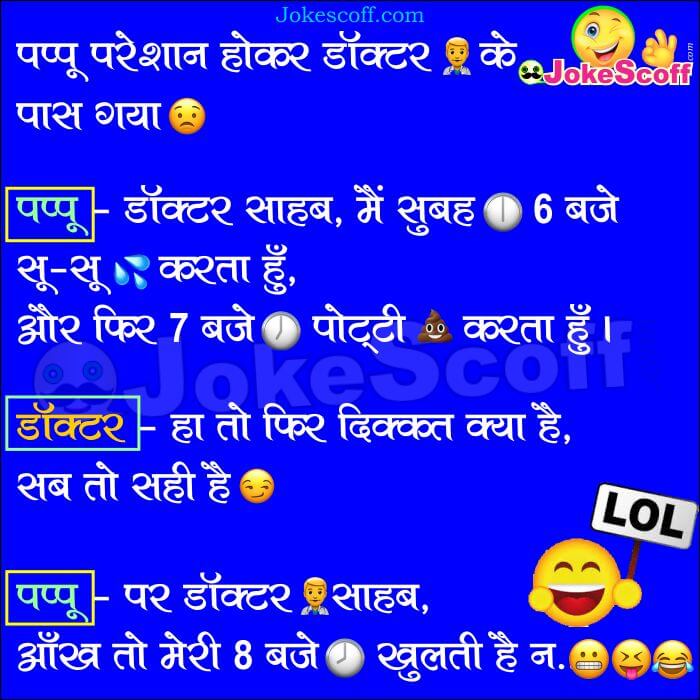 पप्पू परेशान होकर डॉक्टर 👨‍⚕️ के पास गया ।
पप्पू – डॉक्टर 👨‍⚕️ साहब, मैं सुबह 6 बजे 🕕 सूसू करता हुँ,
और फिर 7 बजे 🕖 पोट्टी 💩 करता हुं ।
डॉक्टर – हा तो फिर दिक्कत क्या है, सब तो सही है ।😏☹️
पप्पू – पर डॉक्टर साहब, आँख 👀 तो मेरी 8 बजे 🕗 खुलती है न…😛😝😂😂😂
Eng text:
Pappu Pareshan hokar doctor ke pas gya.
Pappu: Doctor sahab, Mein Subah 6 baje Su-Su karta hu,
aur fir 7 baje pot'ti karta hu.
Doctor: Ha, to fir dikkat kya hai, Sab to sahi hai.
Pappu : Par doctor sahab, Ankh to meri 8 baje khulti hai n.
Jokes hamare jivan me tension kam karta hai. Isliye roj 2-4 achche jokes padh liya karo Jisse aapka mind fress ho jayega.
Pappu Hindi Jokes: Ye Jokes kaisa laga ye humein comment dwara jaroor batain, Agar pasand aaya ho, aapki hasi lane me ye jokes helpful hua ho to like kare bina na jaiye, Like se kuch hota to nahi hai, bas ye hota hai ki Humein thoda sa motivation milta hai.