Interview Gujarati Jokes on Pappu and Boss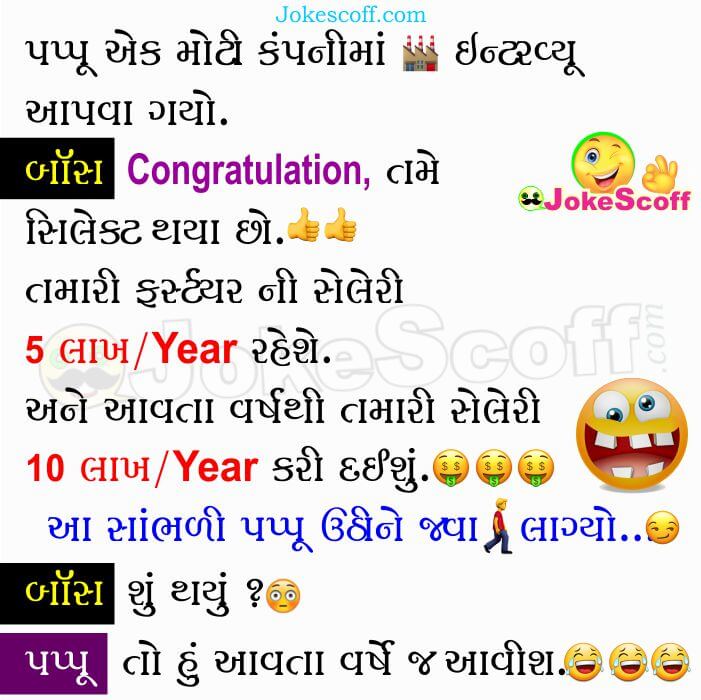 Pappu ek moti company ma interview aapva gayo.
Boss: Congratulation, Tame select thaya cho.
Tamari 1st year ni salary 5 lac/year raheshe.
Ane aavta varsh thi tamari salary 10 lac/year kari daishu.
Aa sambhadi Pappu uthine java lagyo…
Boss: Shu thyu?
Pappu: To hu aavta varse j aavish.
Hindi Trans:
Pappu ek badi company mein interview dene gya.
Boss: Congratulation, Aap select ho gye ho.
Aapki first year ki salary 5 lac per year rhegi,
Aur next year se aapki salary 10 lac per year kar denge.
Ye sunkar Pappu uthkar jane laga.
Boss: Kya hua?
Pappu: To fir me Next year se hi aauga.
Ha ha ha! Sachi vaat bhai, Pagar aavta varse vadhse to aavta varse j javay ne :-) Namaskar! Kevu lagyu aa Gujarati Jokes? Te amne comment dwara jaroor batavjo. Jo pasand aavyu ho to like jaroor karjo, and Share karine bijane pan hasavo.
Interview Gujarati Jokes: Aavaj new Funny Gujarati Jokes mate site jokescoff par aavta raho. Ame tamara Khusi mate sada tatpar rahiye chhiye. Like and share karine tame amara manobal ne aavi j rite vadharta rahejo. Tamara like karva thi amara kaam karva na josh ma vadharo thay che. Gujarati Interview Jokes pasand aave to pote j ekla ekla na haso:) Tamara Friend circle and reletives ma pan share karine temne pan hasavo. Swath Raho, Mast Raho… Sada Hasta raho and Hasavta raho… Thanks…