Very Funny Jokes in Gujarati for WhatsApp and Facebook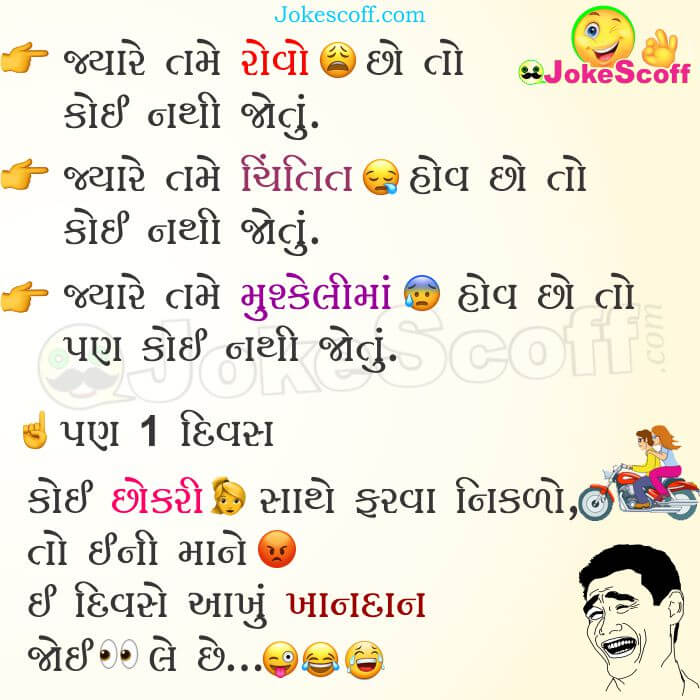 Jyare tame rovo cho to koi nathi jotu.
Jyare tame Chintit hov cho to koi nathi jotu.
Jyare tame Muskelima hov cho to pan koi nathi jotu.
Pan 1 divas
Koi Chokari sathe farva nikdo, to Eni maane.
E Divse aakhu khandaan joi le che…
Hindi Trans:
Jab aap Rote hai, to Koi nahi dekhta.
Jab aap Chintit hote hai, To koi nahi dekhta.
Jab aap Musibat mein hote hai,
Tab bhi koi nahi dekhta.
Par 1 din kisi Ladki ke sath Ghumne niklo to,
Sala Pura ka Pura Mohalla dekh leta hai…
Funny Jokes in Gujarati New: Ha ha ha! Jova jaie to aa 100% sachi vat che. Loko ne bija na dukh ma dakhal devanu nathi gamtu, But Sukh jou nahi ke Dakhal devanu saru.
Tamne aa Gujarati Jokes kevu lagyu te amne comment karine jaroor janavo. Jo Jokes in Gujarati Pasand aavi rahya hoy to, Amara utsah ne banavi rakhva please like jaroor karjo, and share pan karine bija ne pan hasavo.
Like and Share karta raho, aavi j rite support banavi rakho. Swasth Raho, Mast Raho, Sada Hasta Raho, Hasavta Raho… Aa j Zindagi che Mitro… Thanks.