Abhan Health Minister Jokes in Gujarati: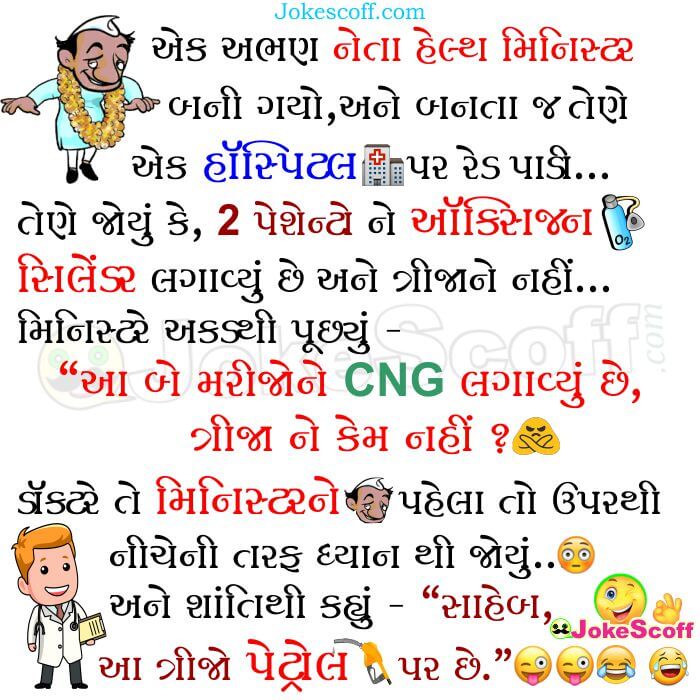 Ek Abhan neta Health Minister bani gyo,
Ane bantaj tene 1 Hospital par raid padi…
Tene joyu ke, 2 Patient ne Oxygen Cylinder lagavyu che
and Trija ne nahi…
Ministere Akad thi puchyu: "Aa be marijo ne CNG lagavyu che, Trija ne kem nahi?"
Doctore Minister ne pahela to upar thi
niche ni tarah dhyan thi joyu ane shanti thi kahyu:
"Saheb aa trijo Petrol par che."
Hindi Trans.:
Ek Ashikshit neta Health Minister ban gya,
Aur banne ke sath hi usne ek Hospital par Raid kiya,
Usne dekha ki 2 Patient ko Oxygen cylinder lagaya hai Tisre ko nahi…
Minister ne akad se pucha:
"In dono marijo ko CNG lagaya hai, Tisre ko kyu nahi?"
Doctor ne Minister ko pahele to upar se niche ki or dhyan se dekha,
aur Shanti se kaha: "Sahab, Ye tisra Petrol par hai."
Jokes in Gujarati on Abhan Health Minister: Jokes pasand aavyu hoy to aa page ne like karo. Fakt pote j na haso, Share karine bija ne pan hasavo, Hasta raho Hasavta raho… Tamara Jokes amne comment dwara jaroor janavo, Best Gujarati Jokes ne ame jaroor thi Publish karishu. Swasth Raho… Mast Raho… Sada Hasta rho… Thanks.