Dahej ni Mang Funny Gujarati WhatsApp Jokes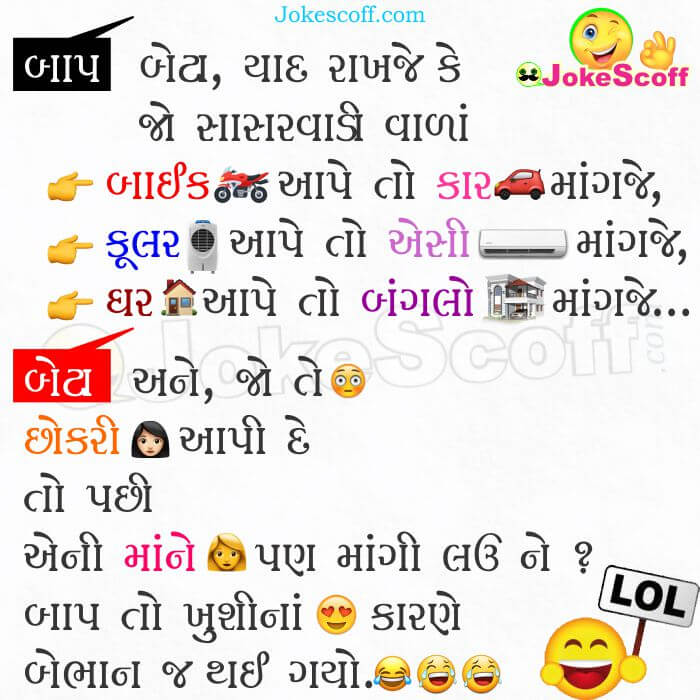 Baap: Beta, Yad rakhje ke jo sasarwadi wada
Bike aape to Car mangje,
Cooler aape to AC mangje,
Ghar aape to Banglo mangje…
Beta: Ane jo te chokari aapi de to pachhi
Eni Maa ne pan mangi lau ne?
Baap to khusi na karne bebhan j thai gayo.
Hindi Trans:
Baap: Dhyan rakhna beta, Agar Sasural wale –
Bike de to Car mangna,
Cooler de to AC mangna,
Ghar de to Bangla mangna…
Beta: Aur papa, Agar wo Ladkki de de to fir,
Uski Ma ko bhi manglu kya?
Baap to Khusi ke mare Behos hi ho gya…
Dahej Gujarati Jokes: Ha ha ha! Beta e pan shu point maryu che! To Baap Sock thai javo joie but Haro e to Khusi na karne Behosh thai gyo. :) Aa to fakt jokes che pan Yad rakhjo friend ke Dahej Levu ane devu banne paap che. Aavaj new Gujarati Jokes ke Gujarati Funny SMS stuff mate tame amara FB page ne pan like ke follow kari sako cho, Ame tya pan jokes share kariye chiye.
Tamara like karvathi amara kam karvani ruchi ma vadharo thay che. ane ha Jokes in Gujarati Pasand aavi rhya hoy to Fakt pote j na hasto :) Aapna Relatives ke friends circle na WhatsApp, Facebook par share kari temne pan hasavo. Swasth Raho, Mast Raho, Ane Sada hasta raho, Hasavta Raho… Aabhar!