Very Funny Husband Wife Joke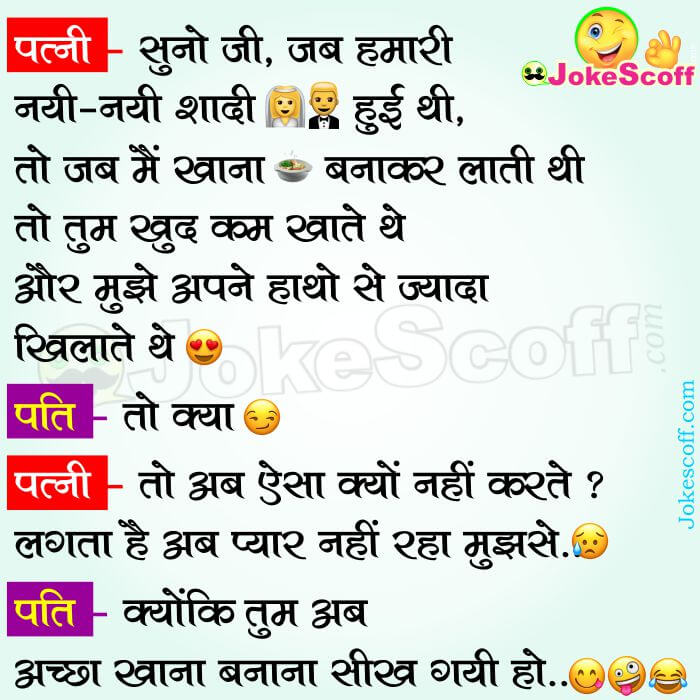 पत्नी – सुनो जी, जब हमारी नयी-नयी शादी हुई थी,
तो जब मैं खाना 🍲 बनाकर लाती थी
तो तुम खुद कम खाते थे और मुझे अपने हातो से ज्यादा खिलाते थे ।😘
पति – तो क्या ?🤨
पत्नी – तो अब ऐसा क्यों नहीं करते ?😥
लगता है अब प्यार नहीं रहा मुझसे.😢
पति – क्योंकि तुम अब 💁‍♂️ अच्छा खाना बनाना 🍲 सीख गयी हो…😛😝😂😂😂
Eng text:
Wife: Suno ji, Jab hamari nayi nayi shadi hui thi,
To jab me khana banakar lati thi to
Tum khud kam khate the aur muje apne hatho se jyada khilate the.
Husband: To kya?
Wife: To ab aisa kyo nahi karte?
Lagta hai ab pyar nahi rha mujhse…
Husband: Kyon ki tum ab achcha khana banana sikh gyi ho.
Ha ha ha! Namskar! Kaisa laga ye Funny jokes ye humein comment ke dwara jaroor bataiye. Agar pasand aaya ho to like jaroor kariye, Aur share karke dusro ko bhi hasaiye.
Husband Wife Jokes: Aise hi new aur latest Jokes aur chutkulo ke liye visit karte rahiye Jokescoff.com ko. Hum aapke hasi ke liye sada tatpar rahte hai. Like aur share karke Aap hamara aise hi manobal badhate rhiyega. Aapke like se hamare karya karne ki ruchi me vriddhi hoti hai. Jokes pasand aaye to khud hi akele akele na hasein :) Apne friend aur reletive ko bhi share karke unko bhi hasaiye.