Very Funniest Husband Wife Hindi Jokes for WhatsApp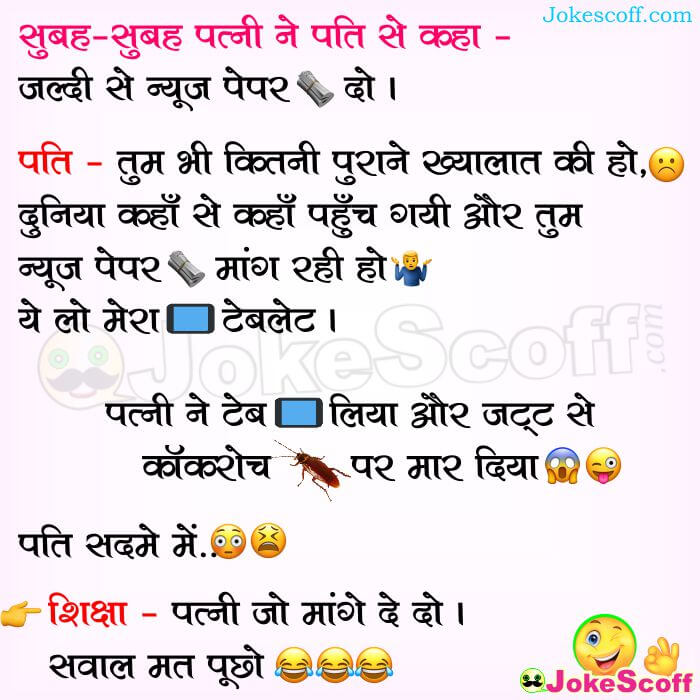 सुबह सुबह पत्नी ने पति से कहा – जल्दी से न्यूज पेपर 🗞 दो ।
पति – तुम भी कितनी पुराने ख्यालात की हो,😏
दुनिया कहाँ से कहाँ पहुँच गयी और तुम
न्यूज पेपर मांग रही हो ये लो मेरा टेबलेट📲
पत्नी ने टेब 📲 लिया और जट्ट से कॉकरोच 🦗 पर मार दिया😛🤪🤪
पति सदमे में…😱
शिक्षा – पत्नी जो मांगे दे दो, सवाल मत पूछो😜🤪🤣🤣🤣
Eng text:
Subah Subah Wife ne Husband se kaha – Jaldi se News Paper do.
Husband – Tum bhi kitni purane khayalat ki ho,
Duniya kaha se kaha pahuch gayi aur tum
News Paper maag rahi ho, Ye lo mera Tablet
Wife ne Tab  liya aur Jat't se Cockroach par maar diya.
Pati Sadme me.
Moral – Patni jo mange de do, Sawal mat pucho.
Dear Pathak! Aapko ye Jokes aur Chutkula kitna psand aaya ye humein jaroor bataye, Hum aapki hasi ke liye sada work karte rahte hai. Aapko khusi dena yeh hamara karya hai, Aur is karya se Aapki khusi ka madhyam banna hamare liye atayant saubhagya ki baat hai hai.
Very Funniest Husband Wife Jokes: Naye Naye High Quality and Funny Jokes in Hindi ke liye Jokescoff pe sada aate jate rahiye :) Aur apni life me se thoda sa tension kam kijiye. Laughing ek best medician hai hamare sharir ke liye. Hastey rahiye aur hasatey bhi rahiye. Hum aise hi aapki hasi ke madhyam bante rahenge. Swasth raho… Jokescoff App ko bhi Install Kijiye. Jokes ke sath jude rahene ke liye aap hamare FB and Twitter page @JOKESCOFF ko bhi follow kar sakte hai. Mast Raho… Sada hastey Raho… Hastey Raho… Dhanyawaad!