TOPMOST 5 FUNNIEST UTTRAYAN OR MAKAR SANKRANTI HINDI JOKES:
Here top Five Funniest Hindi Jokes for Kite festival Uttrayan or Makar Sankranti Whatsapp Status. This top 5 Funny Jokes will fill your face laughter. Share to your circle on Whatsapp facebook and twitter, also fill on their face.
महाराष्ट्र में इस Festival को मकरसंक्रांति कहते है । गुजरात में इस त्योंहार को उत्तरायण नाम से जाना जाता है । खुशियों के इस त्योहार में गुजरात में लोग तिल-गुड की चिक्की, उंधिया खाते है, और पतंग उड़ाते । महाराष्ट्र में लोग "तिल गुड़ घ्या गोड़ गोड़ बोला" कहे कर एक दूसरे का मुँह तिल गुड़ के लड्डू या चिक्की खिलाकर मिठा करते है । यहाँ JokeScoff इस त्योहार में और भी अधिक खुशियाँ आये इसलिये इस त्योहार को शेयर किये जा सके ऐसे 5 सबसे हास्यास्पद चुटकुले शेयर करने जा रहा है । आशा है आप एन्जोय करेंगे । Let see…
Top 5 Latest Uttrayan/Makar Sankranti Kite Festival Jokes
उत्तरायण आयी नहीं कि, लोगों का
ये "पक्षी बचाओं अभियान" चालू…
चलो अच्छा है वैसे…
पर लोग भी साले अजीब है…
मुर्गी खाने की और
कबूतर बचाने का…
Happy Uttrayan / Makar Shankranti Best Post:
Eng. Text : Uttrayan aayi nahi ki, Logo ka ye "Pakshi (Bird) Bachao" Abhiyan chaalu..
Chalo achha hai vaise…
Par log bhi sale ajib hai…
Murgi (Chiken) Khane ki aur Kabooter bachane ka…
"Uttrayan Dekh Bhai" Funniest Status Jokes
देख भाई…
प्यार में गिरना
लेकिन छत पर से मत गिरना
हड्डीयाँ टूटने पर बहोत ही दर्द होता है…
Happy and Safe Makar Sankranti
जान है तो जहान है…
हमारा सारा आसमान है…
Eng Text : Dekh Bhai…
Pyaar me Girna, Lekin Chhat par se mat girna…
Haddiya tutne par bahot hi dard hota hai..
Happy Uttarayan and Safe Uttrayan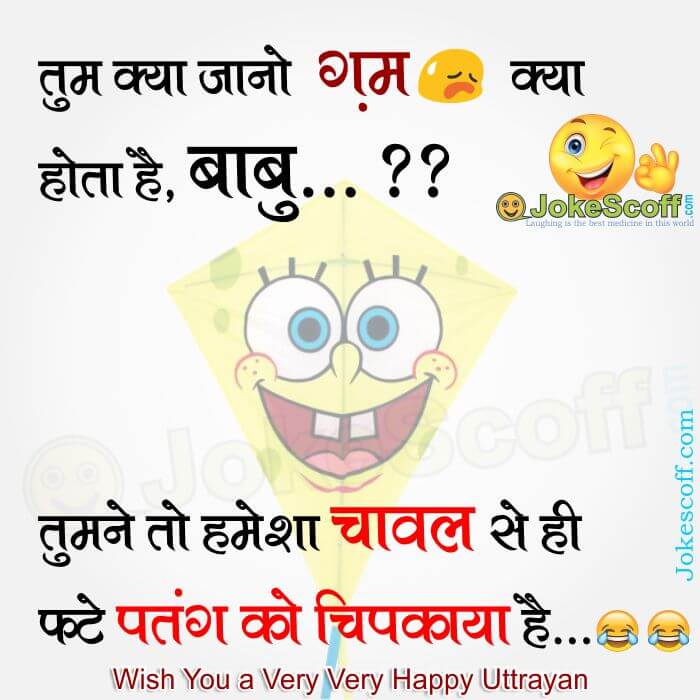 तुम क्या जानो ग़म क्या होता है, बाबु… ????
तूमने तो हमेशा चावल से ही फटे पतंग को चिपकाया है…
Wishing You a very Happy Sankranti…
Eng. Text : Tum kya jaano Gahm Kya hota hai, Babu ?
Tumne to Hamesa Chawal se hi Fate PATANG ko chipkaya hai…
Dhoom 3 Style Wish :
बंदे हम गुजरात के, हम पे किसका जोर
उत्तरायण में उड़े है, पतंग चारों ओर
हम लोग खाये उंधियाँ, जलेबी गोल गोल…
अपनी पतंग को कटवाने आज चले है हम…
Bande Hum Gujarat ke Hum pe kiska jor,
Uttrayan me ude hai patang charo aur…
Hum log khaye undhiya, Jalebi gol gol
Apni patang ko katwane aaj chale hai hum….
Here Related Post For Makar Sankranti / Uttrayand or Kite Festival :
Wish all of you very Happy and Safe Uttrayan. Like this ? Share this ! and Enjoye….