English Teacher and Pappu Jokes on Tobacco or Tambaku Jokes: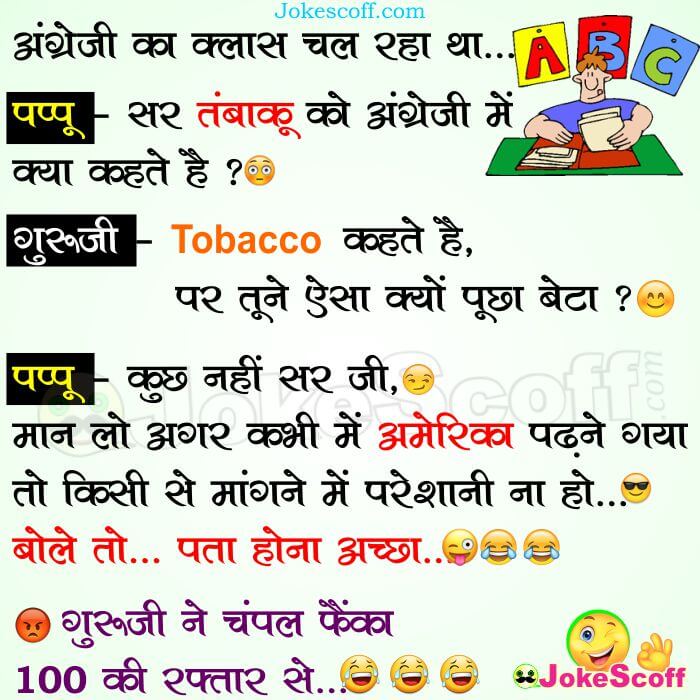 अंग्रेजी का क्लास चल रहा था…
पप्पू – सर तंबाकू को अंग्रेजी में क्या कहते है ?
गुरूजी – Tobacco कहते है, पर तूने ऐसा क्यों पूछा बेटा ?
पप्पू – कुछ नहीं सर जी,
मान लो अगर कभी में अमेरिका पढ़ने गया तो
किसी से मांगने में परेशानी ना हो…
बोले तो… पता होना अच्छा…
गुरुजी ने चंपल फैंका 100 की रफ्तार से…
Eng text: English ka Class chal rha tha…
Pappu: Sir, Tambaku ko English me kya kahte hai?
Teacher: Tobacco kahte hai, Par Tune aisa kyo pucha beta?
Pappu: Kuch nahi sir ji,
Man lo Agar kabhi me America padhne gya to
Kisi se mangne me pareshani na ho…
Bole to… Pata hona achcha…
Guruji ne Champal feka 100 ki raftaar se…
Teacher Student And Tobacco Jokes: Aapko ye Jokes kaisa laga ye humein comment dwara jaroor bataiye, Agar Jokes pasand aaya ho to is page ko like jaroor karein, Aur dusro ko share karke unko bhi hasaye. Thanks.