Very funny School, Principal and Admission time jokes. New and Funny teacher student and parents  Hindi Jokes and Chutkule.
Funny Hindi Jokes 1
प्रिन्सीपल – आपको सारी चीजें स्कुल से ही लेनी पड़ेगी…
जैसे की…
नोट-बुक्स,
स्कुल युनिफोर्म,
जूते,
मोजे,
बेल्ट,
बेग…
पेरेन्ट्स – ठिक है… और पढ़ाई ?
प्रिन्सीपल – ओह हा !
उसके लिये आप बाहर ट्युशन लगवा लिजिए…
~~~~~~~~~~~~~~~
Principal : Aapko sari chize school se hi leni padegi…
Jaise ki… Notebooks, School uniform, Jute, Moje, Belt, Bag…
Parents – thik hai… Aur padhai ?
Principal : Oh ha !!!
Uske liye aap bahar tuition lagva lijiye…
**************************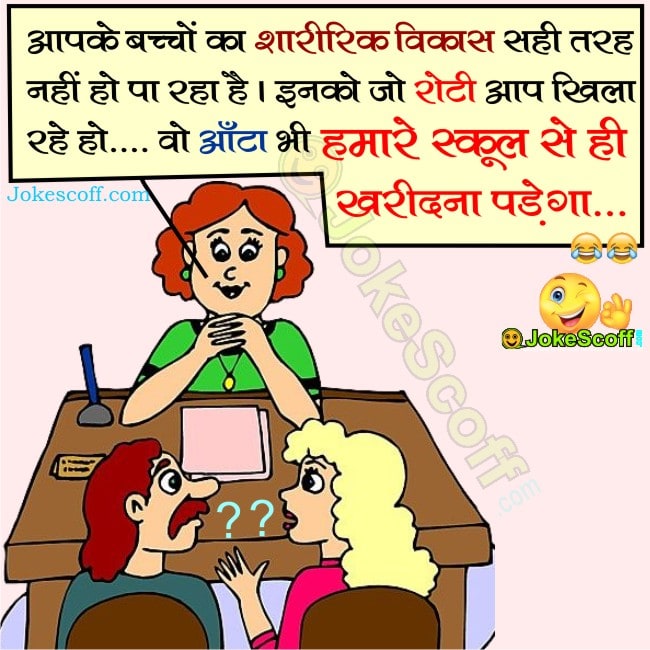 Funny Jokes 2
आपके बच्चों का शारीरिक विकास सही तरह नहीं हो पा रहा है…
इनको जो रोटी आप खिला रहे हो…
वो आँटा भी हमारे स्कूल से ही खरीदना पड़ेगा…
~ लाँच खोरी एण्ड कमीशन खोरी स्कुल…
~~~~~~~~~~~~~~~
Aapke bachcho ka sharirik vikas sahi tarah nahi ho paa rha hai…
Inko jo roti aap khila rahe ho…
Wo aata bhi hamare school se hi kharidna padega…
~ Lanch khori & Commission khori School.
Recommended Jokes for you :
Ye dono School and Principal Jokes aaj ki sachchai par aadharit hai. Ye Hindi jokes aapko kaise lage ye comment dwara jaroor bataye. Isse hamara hosla badhta hai. Thanks.