Very Funny Narendra Modi vs Amitabh Bachchan Hindi Jokes: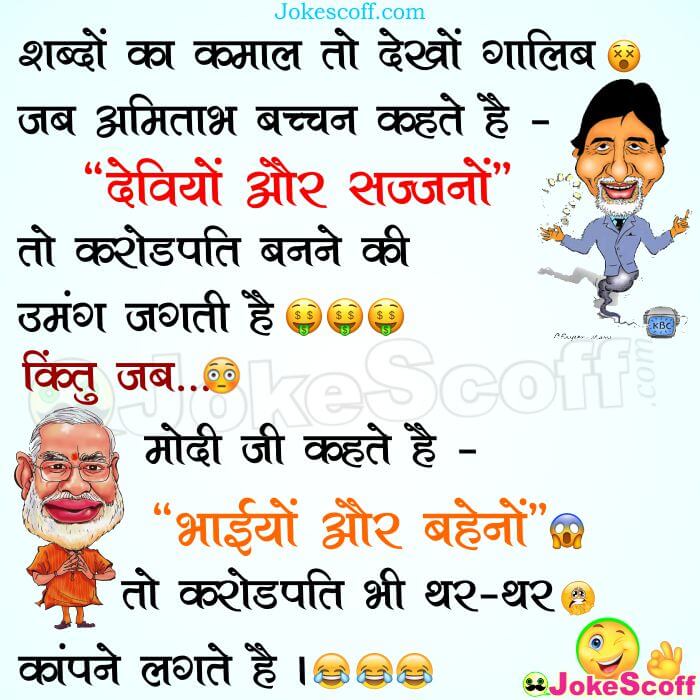 शब्दों का कमाल तो देखों गालिब🤗
जब अमिताभ बच्चन कहते है –
"देवियों और सज्जनों"
तो करोडपति बनने कि उमंग जगती है…🤑🤑
किंतु जब,
मोदी जी कहते है – "भाईयों और बहेनों"😱
तो करोड़पति भी थर-थर 😥😥 कांपने लगते है…😂😂😂



Eng text:
Shabdo ka kamal to dekho Galib,
Jab Amitabh Bachchan kahte hai –
"Deviyon aur Sajjano"
to Crore Pati banne ki umang jagati hai…
Kintu jab,
Modi ji kahte hai – "Bhaiyon aur Baheno"
to Crore Pati bhi Thar-Thar kampne lagte hai…
"Sabdo ka Kamal" Modi and Bachchan Jokes: Dears ! Agar aapko ye Jokes pasand aaya ho to hamare karya ko prerna dene ke liye like button ko jaroor dabaye. Aapke like se hamari karya me ruchi bani raheti hai.
Naye Naye Jokes padhte rhiye, Kud bhi hasiye aur logo ko bhi hasatey rhiye. Jina isi ka naam hai. Swasth raho… Mast raho… Sada hastey raho… Dhanyawaad!